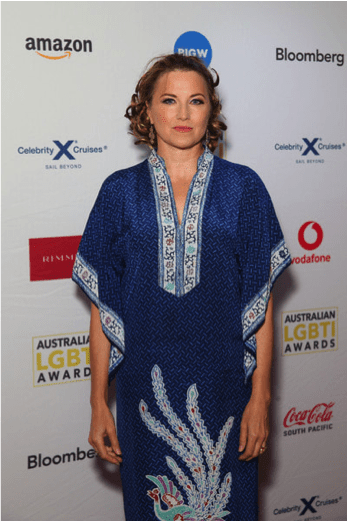 Film and TV Star Lucy Lawless will attend The New Zealand LGBTI Awards as their proud ambassador.
Internationally-known actress and activist Lucy Lawless will be appearing at the inaugural New Zealand LGBTI Awards Ceremony next month and says she is delighted to be a part of the inaugural event created to celebrate equality.
"I am delighted that Silke Bader is setting up the New Zealand LGBTI Awards in Auckland. She really helped the Aussie LGBTI community announce and celebrate their collective power," Lucy says.
"She's a class act, and I love her. Now let's do it Kiwi style! November 29th at the Cordis Hotel, Auckland!"
The Kiwi actress is well-known for lending her support to several causes, most prominently environmental awareness. She has worked extensively with Greenpeace, becoming a climate ambassador and fighting to prevent offshore oil drilling.
She is also a strong supporter of the LGBTI community, having attended numerous Gay Pride parades and Mardi Gras celebrations and openly supported gay marriage. She was awarded the Ally of the Year Award at the 2017 Australian LGBTI Awards.
Her starring role in 1995's television show 'Xena: Warrior Princess' propelled her to international stardom and made her an icon among the feminist and gay communities due to her character's strength and ambiguous sexual orientation. She has also starred in well-known film and TV shows such as the 'X-Files', 'Spiderman', 'Parks and Recreation,' and 'Ash vs Evil Dead.'
Director and MD of the New Zealand LGBTI Awards, Silke Bader, says the Awards are intended to create role models and visibility within the LGBTI community. Lucy Lawless's presence will help achieve both goals in one stroke.
"We're thrilled to have Lucy on board, her support means a lot to us and she's the perfect person to represent what we stand for," Silke says.
The New Zealand LGBTI Awards Ceremony will be a lavish black-tie event hosted at the Cordis Hotel in Auckland on November 29th. It will feature several famous faces, including Lucy herself, former TV show host-turned politician Tamati Coffey, who will be MC for the evening, and iconic Kiwi comedy duo the Topp Twins, who will be receiving the Lifetime Achievement Award.