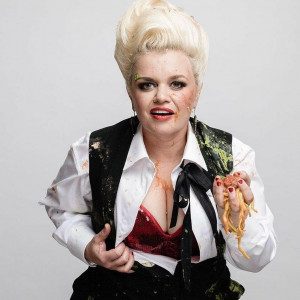 Libby O'Donovan is a powerful and sassy performer, renowned for her nuanced interpretations and extraordinary voice.
She is a critically acclaimed Jazz and Cabaret performer and an award-winning Musical Director.
Her third self-penned album Back To Broken Hill sees the acclaimed artist move into true singer-songwriter territory, still laced with a smattering of jazz influence, in an absolutely beautiful collection of storytelling songs. Signing with ABC music for its release "Back to Broken Hill" captures the heart, the comedy and the outstanding musical talent that is Libby O'Donovan.
Having toured Australia extensively with Australian Country Music legend, Beccy Cole, it's easy to see how O'Donovan has crept into the hearts of country music fans nationwide over the last few years. Back To Broken Hill is filled with an iconic Australian voice told with impressive vocals, stunning lyrics and outstanding production by Matt Fell, Beccy Cole and O'Donovan.
Some of Australia's best session players are playing on the album from a cross-section of musical genres. Country music genius, Stuie French, provides outstanding guitar work, while James Gillard, who has played with the who's who of Australian bands for decades, holds down the rock-solid bass. Piano maestro Bill Risby provides perfect colour and placement throughout the songs and multi-instrumentalist Matt Fell plays a swag of other instruments, along with the percussion that adds the finishing touches to the pulse of each song.
O'Donovan says "Back to Broken Hill is like coming home. Growing up in Broken Hill has provided me with a rich tapestry of stories and good old Aussie yarns, which are peppered through this album."
Estelle, a standout on the album shows off Libby's wit and humour in an ode to sisterly love, while the clever "No One Tells My Darling What To Do" is an upbeat bluesy, tongue in cheek ode to people who do not like to be treated like a fool. All tracks are written by Libby O'Donovan, apart from two songs, "All That I Wanted" & the hauntingly beautiful "Songs Remember Me" which O'Donovan wrote with Beccy Cole. The title track and first single, Back To Broken Hill, was written by Cole, based on some of the stories from O'Donovans childhood.
Back To Broken Hill is an extraordinary debut into country music for O'Donovan, painting a breathtakingly gorgeous picture into the lives of regional Australians.