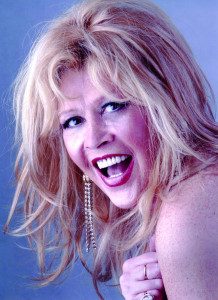 The 2019 Broken Heel Festival has launched the start of their 2019 Festival just in time for Christmas with the release of their brand new poster and headlining act.
The Festival is also very proud and honoured to welcome the iconic CARLOTTA to the 2019 stage headlining Saturday night. Carlotta is an Australian cabaret and LGBTIQA+ community icon & television celebrity. She began her career as an original member of the long-running Les Girls cabaret show, performed entirely by heavily costumed males, which started in 1963 in the purpose-built Les Girls building which stood on a prominent corner in the heart of Sydney's Kings Cross, New South Wales.
Carlotta will perform her infamous "Carlotta, Queen Of The Cross" show on Saturday night on the main stage. Her 70 minute performance will be split with a brief intermission and our audience will be delighted with a very special support act….for the first time in years, three of Carlotta's legendary ex Les Girls; Vonni, Christy McNicol & Penny Clifford will perform a tribute show to Carlotta & pay respects to their legendary Les Girls showgirl days. This reunion is an absolute coup for the festival and a very special addition to Carlotta's headlining show.
"We are thrilled to feature such a legend of the LGBTIQA+ community and celebrate their history by showcasing one of their icons such as Carlotta," says Festival Director Esther LaRovere. Philmah Bocks was instrumental with the booking as she had been chasing Carlotta to perform for the Broken Heel Festival for a few years now. "I think it's a testament to the Festival growing success and fabulous reputation that we are seeing such a high calibre of entertainers wanting to come and work with us here in Broken Hill, I'm so excited to welcome Carlotta and her girls here in 2019"
The new festival poster "Pop the cork for our 5th Birthday Darling" – celebrates 5 years of this growing Priscilla themed event that occurs over 3 days in the iconic landscape city of Broken Hill & The Palace Hotel. The new poster features new & returning performers as they drape themselves in a flurry of sequinned, pink cotton candy colours and party theme props. Front and centre are Broken Hills very own June Marie Bennett who played "Shirl" in the film Priscilla Queen of the Desert who will be once again gracing the stage at the 2019 festival.
Broken Heel Festival
WHEN: 13th, 14th, 15th September 2019
WHERE: Broken Hill NSW