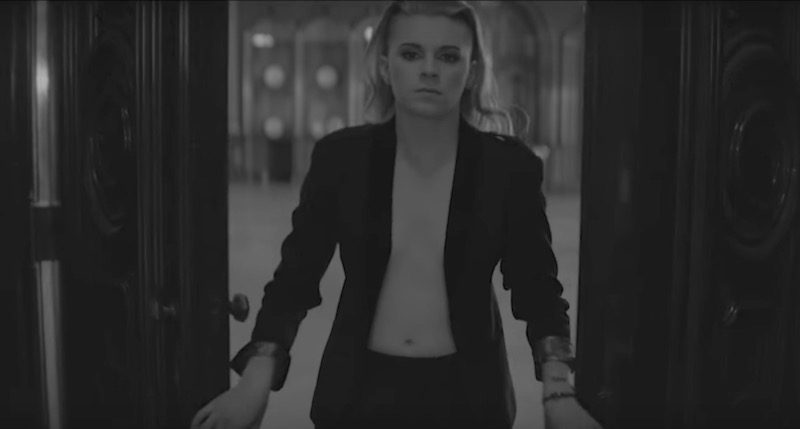 Lynn Gunn is hot and gay as hell in the clip for PVRIS' new single, Heaven.
If you're looking for a new lesbian rocker heartthrob to moon over, look no further: Boston-based rock band PVRIS have just released the video clip for the first single off their new album, All We Know Of Heaven, All We Need Of Hell, and it is super gay.
The song is called "Heaven," and the clip features a lot of footage of out lesbian front woman, Lynn Gunn, sitting and striding about, looking impossibly strong and gorgeous.
Gunn's hair is basically a visual amalgamation of the butch/femme dynamic – flowing locks effortlessly fall over the buzzest of buzz cuts, as Gunn does a variety of attractive things, including: walking transcendently through a landscape of untouched snow; sitting intensely at a piano while her male band mates stand like centurions to a queen behind her; trailing her hands along the walls of a Shining-esque hallway; wearing a slick black blazer over nothing but skin. Yes. Please.
Spin dubbed them a "breakout band." MTV described them as "the best thing since sliced bread." The Huffington Post called Gunn "a force that cannot be denied." Clearly PVRIS is not wanting for critical adulation. And for good reason: their music is melodic, emotive, and very, very easy to listen to.
But unlike The Huffington Post, the force that we cannot deny is the force of Lynn Gunn's attraction. Luckily for you, the band has amassed a sizeable library of film clips paying homage to Gunn's hotness. Sit back, have a drink, and enjoy from the comfort of your couch.
If you want to hear more PVRIS, and want to get into other LGBTI musicians that we love, check out Curve's Spotify playlist!