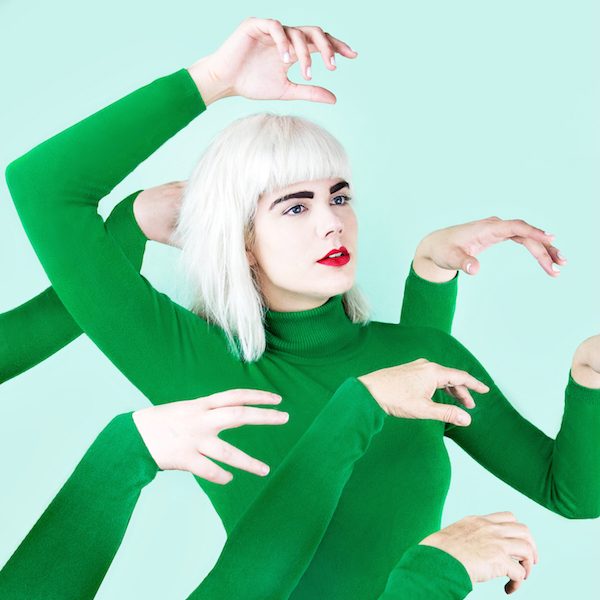 This Aussie musician is making us dance, cry and laugh at the same time.
If you've seen Aussie singer/songwriter Bec Sandridge perform live, then you'll already know the ecstatic sense of joy and solidarity she can conjure up in a room full of strangers, just with a few bangs of her platinum blonde mop.
If you've not had the privilege, we're here to introduce you to one of the most talented musical artists of 2017. Bec is queer, she's funny as hell, and her songs somehow balance intense, guttural emotion with the catchiest pop hooks we've danced to in ages.
You're from the small Australian city of Wollongong, but you got your start in the music industry by busking on the streets of Glasgow – talk about baptism by fire! Busking relies so much on drawing people in with your vibe and with your physical presence, as well as your voice. How did that experience influence the way you perform live?
I think busking is all about faking it until you somewhat make it but also gives you time to practice songs that aren't so great in front of a bunch of people who don't necessarily like what you do – which I think is really important. It teaches you to have thick skin and also teaches you that you need to command a space or stage.
Your on-stage charisma is off the charts. I saw you at Newtown Social and was blown away by your frenetic energy, your bright red pantsuit, your mop of bleach blonde hair. Is that aesthetic and that vibe something that has developed as your sound has changed? How do they sound and aesthetics relate?
I think I've definitely always been obsessed with colour and fashion or art but I think I've just become more sure of myself in the last two or three years or just less scared… For me, I find when sound and aesthetics work as a uniform body or force, it is so, so powerful. I love theatrics and bold statements and when something like aesthetic is super intentional it can help create things like a mood or emotion even more effectively. It almost helps the song's meaning to cut through more so than usual, sometimes.
Do you identify as a lesbian, or as queer, or neither? And if so, is your queerness something that influences the way you perform, and the image you project? Or do you agree with Sedgwick's oft-quoted claim that queerness is performative and only comes into existence through performance? Or do you think something else entirely?
I don't really like to identify as anything but if I had to 'tick a box' I'd probably identify as queer. I think Sedgwick is somewhat onto something… but I guess my sexuality affects what I write about or who I write about whether that be writing about my family or my partner or exes and stuff like that. I find my songs aren't really gendered specific though. I kind of like it when things are gender neutral and leave a bit of mystery.
Your music video for 'You're A Fucking Joke' is awesome. You're there, wearing a badass, slouchy white suit and red turtleneck, and you're surrounded by male dancers wearing plum lipstick, super-gelled brows and hair, and tight white jeans. At one point they're all standing in a line, you put your hand up, and they all blankly fall backwards. Can you tell us about the concept for the video, and how it plays into larger themes in your music?
For me, I think the video speaks volumes about the music industry and also at a greater level. Women are always put in the background of music videos and objectified. We never play the instrument, we become a part of the landscape or handbags… I wanted to tip the expectation on the head and be the person playing the instrument. The guitar is my main instrument and it would be weird for me to not own that. Women often are made to just stand and simply 'look pretty.'
You received backlash from trolls after you covered John Farnham's 'You're The Voice' for Like A Version, and a lot of the derogatory comments involved slurs about your appearance ("You can put lipstick on a pig" etc.) However, the main thread behind the insults seemed to be that dudes were upset that a woman was covering a 'blokey' song, made famous by a bloke. One comment made this very clear to me – "this is the equivalent to burning the Australian flag. John Farnham is the only man who should be singing Australias national anthem." How do you deal with sexism in the music industry? Are things getting better?
I noticed a lot of comments were about my relationship to my band and a couple comments noted 'how can those guys play with a feminist dyke' which I think is just so awful and equally as stupid. So many people are still really uncomfortable about women taking up space or having any form of power. Being a 6ft tall woman, playing an electric guitar, it's kind of hard to not take up space but also I like to make a lot of noise…Regardless, I guess the best way for me to deal with sexism in the music industry is to inform people, call people out and to make small changes within my own business (i.e. employing more women in my team for visibility, having gender neutral toilets at my shows etc). Everyone has a responsibility though (managers, venues, radio platforms, the general public). I think things are slowly getting better and it's an issue that is only just starting to get serious attention.
Who are your female musical icons? And which up and comers should we be looking out for?
I personally love Feist, Tegan and Sara and Robyn. Allison Weiss is someone who I've just discovered who is great! Also MUNA! And some Australians include Obscura Hail and Eilish Gilligan.
Finally, where and when can our readers listen to more of your stuff?!
I think FB and/or Spotify are the goers! <3
Facebook: https://www.facebook.com/becsandridgemusic/
Spotify: https://open.spotify.com/artist/693lRFCUH8BNpURQO9RMpt