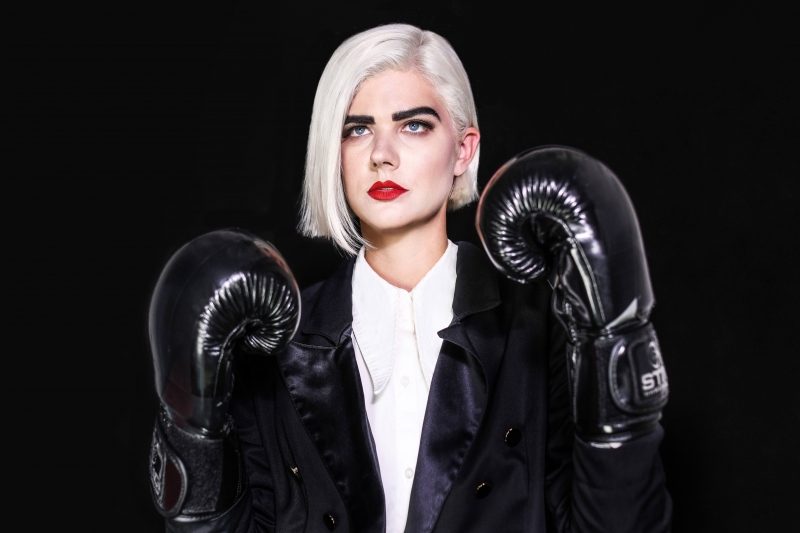 Bec Sandridge has unveiled multiple supports for her forthcoming 'TRY + SAVE ME' national tour.
Congrats on your debut album TRY + SAVE ME, would you like to tell us about the title
TRY + SAVE me is a bit tongue in cheek. It's a nod to my upbringing (my Mum is a Pentecostal Christian and my Dad is agnostic/aesthetic). So sometimes I feel like I pendulum between my own beliefs etc…  but it also looks at my positioning as a cis-white-queer-woman within a society, where I feel like I'm constantly told that I need something else to be a "finished product" or desirable. I need to be saved by men, or I need a partner to be seen as complete. I need better make-up, clothing that slims me or makes me sexier, but not too sexy. You name it… I'll always need something.
You have said your music explores themes of anxiety in individualism, identity and gender – tell us about that
I wanted to explore what my fears are on this record: why am I scared to be confrontational, why am I scared to be alone with my thoughts or alone in general. I wanted to sit with my uncomfortable emotions and figure out what it all meant. I found myself in a place where I felt scared to take up space or to even have any kind of voice (not only musically, but just on a day to day basis). This is a bit bonkers, given the fact that I'm literally 6ft tall…I wanted the record to reflect my growing pains.  I found myself at the end of the record feeling a sense of acceptance in change.
After digging and sitting with it all (gross feelings), I discovered a lot of guilt, shame and fear of being vulnerable. For me, as a full-time songwriter, I feel there's a lot of pressure to know exactly who I am as an individual, at all times. I found it quite difficult when I self-assigned the task of creating something like an album because songwriting is somewhat solidifying your emotions about something in such a cement format…I felt scared to make any kind of statement about my feelings. There were so many contributing factors for me – being a woman, being queer, being tall, growing up in a regional setting… Throughout making this record I felt a lot of self-inflicted pressure to make sure I was depicting myself in the most honest or true way. But at the end of the day, it doesn't really matter. It was how I felt in the moment. And we're all just wee buildings in progress…
How would you describe your musical style?
I think it changes. But at the moment I'd describe it as gross pop.
Tell us about your collaboration with Tanzer for your amazing video clip for STRANGER
Tanzer has this beautiful ability to create the most stressful sexy nightmare that you could possibly imagine. I met up with Hayley once or twice before making the video and immediately trusted her with the aesthetic vision for STRANGER. We both love the theatricality of late 70s/80s music videos and have the same motto when it comes to creating art. We both want our music/art to be on the nose and divisive. In hindsight, I can't believe I was able to hand over the reins so easily – it's a huge rarity for a perfectionistic control freak like me. I feel like I finally met my cinematic soul mate!
Tell us, three artists, you admire?
Robyn, Tegan + Sara and Feist. They're all the boldest of dreamboats!
How did growing up in a religious household in Wollongong shape your identity and how do you think that impacts your music
Well, only one-half of my parents are religious! So it's a pretty odd romantic combination but they're best friends and it somehow works. Their relationship has taught me to be patient, address hard topics with empathy, and when there's indifference patience and forgiveness is kind of essential. Not everyone is going to understand who you are or why you think the way you think. It's something I'm still working on day by day though…
In terms of growing up regionally, I definitely grew up with a limited representation of queer people around me, so I was super scared to come out as queer/gay and music helped me form and meet so many great people etc. Musically, there was limited access to musical equipment, other players, music industry mentors and venues etc. so I think I was somewhat forced to be creative with limited resources. There's a real working-class, "get shit done" attitude I think. I'm really thankful for my upbringing.
Tell us about the story behind I'LL NEVER WANT A BF
I wrote this when I had a GF, my mum knew I did, but she still decided to give my number to an old man whose grandson went to the same university as me.
What advice would you give to someone planning on coming out
Be honest, be brave, own your feelings.
Also, have a good support network of people around you. Know that your feelings are valid and you are beautiful.
(And if you don't have a support network, find one person you can trust and count on).