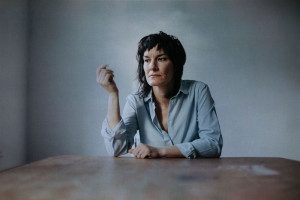 Singer-songwriter Jen Cloher returns with her third album, In Blood Memory.
ARIA nominated artist Jen Cloher returns with her third album In Blood Memory, to be released on May 27 2013 via Milk! Records. Written over six months, recorded over a period of six days and supported by fans through a crowdsourcing campaign, it is the long-awaited follow up to her critically acclaimed second albumiddHidhhsisiHidden Hands.
In Blood Memory was recorded between September 2012 and January 2013 by Nick Higgins, with additional tracks recorded by Neil Thomason and Michael Hubbard. The album was produced by Jen Sholakis, Nick Huggins and Jen Cloher.
"I lost both of my parents at the end of 2011, my mother to Alzheimer's disease and my father to Parkinson's. I'd grieved for years before they died, watching as their quality of life declined. As hard as it was to lose them in close succession, the overriding feeling was one of relief. They had suffered enough.
"I had written an album worth of songs by the beginning of 2012 but I decided to scrap them and start again. My previous album Hidden Hands had been about loss and I didn't have the emotional energy to explore that territory again. Instead, I wanted to write about what was alive in me.
"I wrote In Blood Memory over six months and recorded it in six days. I ran a crowdsourcing campaign to fund the release. It felt good to move quickly and intuitively. While we were making the album we found inspiration in Neil Young and Crazy Horse, Lower Plenty, Patti Smith, Dick Diver, Television, The Drones, Velvet Underground, Kurt Vile and Twerps.
"In Blood Memory is a live album. Its strength lies in passionate performances from a great band. Drums are spilling into vocal mics and guitars into drum overheads. All of my vocals are life. There is no separation.
"The title is inspired by the great American choreographer Martha Graham, who after years of alcoholism, returned from obscurity to choreograph right up until her death at age ninety four."
After graduating from acting at NIDA, Jen Cloher decided to pursue a career in music. Her first album Dead Wood Falls was nominated for an ARIA for Best Female Artist. Her second album Hidden Hands was named as one of the top ten releases of 2009 by The Age and nominated for three The Age EG awards including Best Song and Best Album.  Her music has been featured in television and film including Packed to the Rafters, Underbelly, Winners and Losers and Spirited.