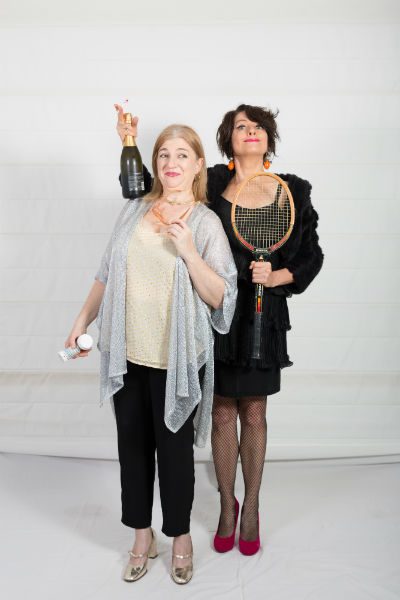 LOTL speaks to Jackie Loeb and Gretel Killeen about their upcoming show.
Two of Australia's most-loved, irreverent and inspiring comedians, Gretel Killeen and Jackie Loeb star at the Sydney Comedy Festival with their hilarious new show, In Search Of A G-Chord, performing together for four nights at The Factory Theatre.
Comedian, actor, musician and cat lover Jackie Loeb has come a long way from her astounding performances in the Australian TV classics Full Frontal and Good News Week. She is now based in the USA where she's recently performed in the 2014 Aspen Comedy Festival, Last Comic Standing and the Hollywood Fringe Festival and is the writer, director and star of the web series 'Play Date'.
Meanwhile, Gretel Killeen – fresh from wowing the Parade Sideshow at Sydney Mardi Gras 2015 – has recently starred in and co-written the web series phenomenon 'Minister for Men'. Winner of a Mo Award, a best-selling author, a famed TV host, documentary maker, voice artist and impertinent bright spark, Gretel is also regularly seen across the TV dial including Seven's Sunrise and The Project on Ten.
The last time LOTL spoke to you was around this time last year. Tell us what's changed about you and what you've learnt in the past year.
Jackie: So much has changed for me. I've put on twelve kilos, which is every woman's objective in life, isn't it? Who doesn't love a tubby lady! In the past year, I have also learnt through self-education that eating a pickled cucumber burns 7 calories. I just have to eat 55 of them and I can consume 1.2 Tim Tams.
Gretel: Well since last year I've fallen in love a few times, fallen out of love about the same amount, learnt how to grow a cactus from a cutting (and no that is not a metaphor), started a cult, cut my hair and learnt that I take life far too seriously.
You were met with standing ovations at your shows last year (congrats!). What kind of acts can we expect to see in this show?
Jackie: Well there's pressure on the audience now, they better stand up at the end of the show or there will be all sorts of trouble. I will malfunction and have to perform a systems restore in order to cope!
I have a wealth of new material through my experiences of living in LA. I will try not to cry as I relay some of these stories. I was scammed by another comic! I know! And all this time you thought comics were honest decent people. But there is plenty of uplifting made up stories too and my guitar is in tune.
Gretel: I have recently become a guru so I will basically be using the show to entice new followers.
Gretel, I really, really enjoyed the Minister for Men videos. Please tell us there are going to be more episodes!
Gretel: Thank you. Being involved in Minister for Men was fabulous, but unfortunately, no new episodes are planned at this stage.
Jackie, do you have any advice for LGBTIQ individuals in the entertainment industry?
Jackie: Trust your instinct, go with your gut, develop a thick skin, be open to constructive feedback, don't binge eat on chocolate after shows while driving, be respectful towards other performers, don't bitch or scratch yourself in public and please, I implore you… flush the chain when using the amenities in the Green Room.
Tell us about your strangest (or most interesting) experience with an audience.
Jackie: It happened about 10 years ago while performing on a Cruise Ship. I had just done my memorable Shakira impersonation. The next day when I came downstairs for breakfast, I heard a woman say, "When that comic came out and wobbled her gut I was shocked". I was so touched that my tummy had such a lasting legacy.
Gretel: There is no 'strangest' experience because something weird and unexpected happens every day and night. But my most recent strange experience was having my 82-year-old mum turn up without notice at an interstate gig…on the same night, I was going to try out all my new material about sex. So I edited my material on the hop and spoke about gladioli instead (and no, that also is not a metaphor).
What's currently making you laugh? 
Jackie: Listening to a recording of a show I did last night. I am my number one fan. Is that too egotistical? I hope so.
Gretel: Amy Schumer and her Twelve Angry Men video.
In Search Of A G-Chord
Dates and times: Tues May 12 at 7:30 pm (Preview), Thur May 14 at 7:30 pm, Sat May 16 at 7:30 pm, Sun May 17 at 6:30 pm
Location: The Factory Theatre, 105 Victoria Road, Marrickville