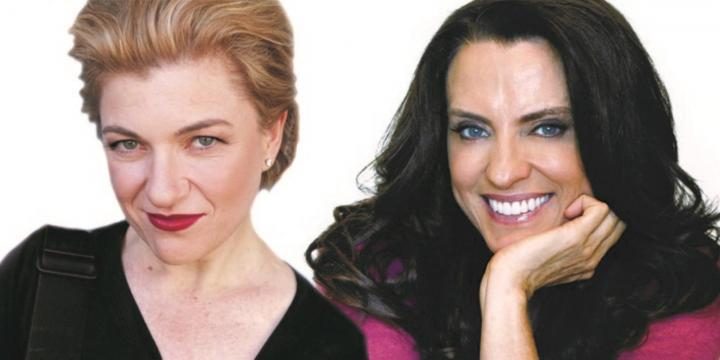 Australian comedy greats together in one wickedly hilarious show
Australian comedy femme Fatales, Jackie Loeb and Gretel Killeen return to stand up the scene with their hilariously wicked show at the Comedy Store. Jackie and Gretel join us at LOTL to talk about their show, their idols and coming to terms with being hilarious.
Hi Jackie and Gretel. Firstly, congratulations on the show! Can you give us a bit of a sneak peek as to what to expect?
Gretel Killeen: I imagine we'll be a combination of hilarious and profound. There'll be monologues, character pieces, songs and occasional bland bits that will only serve to make everything else seem so much wittier. There's also the possibility of the creation of a new religion.
Jackie Loeb: Well due to age and decreased cardiovascular capabilities incurred by non-stop eating since relocating to the USA, there will be less dancing, less revealing of the belly and more anecdotes about shoplifting, trying to be a movie star and plenty of new songs that kind of sound just like the old songs. I also talk more about my sexuality or should I say lack of. Who knew being a middle-aged woman could be so non-eventful!
We are so excited about it! How did it all start? At what point did you realize 'Hey, I'm actually pretty funny!'
GK: I didn't realise I was even vaguely funny until I was twenty years old and I was reading a very serious self-written poem, which the audience surprisingly laughed at. I'm due to be that funny again in 2023.
JL: Is peculiar the same as funny? I've always known. I was attracted to funny from a very young age. I knew I was funny. I tried to hide it. I wanted the other girls to like me so I feigned an interest in sport and boys. But I've always known. And at 40 I told my family I was funny. They said they already knew.
Growing up, were there any particular female role models you looked up to? In what ways have they influenced you?
GK: I was a real moron when I was young. I was so obsessed with examining my navel  I didn't see the world around me.  But now I have a lot of role models. My current inspirations are  96% of the women I know.  (Unfortunately, the remaining 4% are pretty depressing.)
JL: I love women who allow themselves to be ugly and brash and messy for the sake of a laugh. My favourite comedians are Lucille Ball and Jennifer Saunders. Lucille for her vulnerability and physicality and Jennifer for her amazing mind and ability to tap into popular culture. I love that I am on a first-name basis with both of these astounding talents.  They have not so much influenced me but inspired me to be a better comic and performer. To explore and dissect my own 'funny' and think 'Ok how can I make this funnier, to a point where it becomes an unhealthy obsession. To put it in lesbian terms, it's that all-consuming desire of trying to make a straight lady like you. Oh, and to think about comedy as a business. Lucy had her own production company. I have a Hotmail address.
You are both extremely talented women; not just as comedians, but as writers, musicians…the list goes on! Where do you find your inspiration and how do you both constantly come up with such creative and fresh ideas?
JL: I don't. What I like to do is take my existing ideas and refresh them. I call it 'joke botox'. Sometimes comedy material just needs a little rejuvenation or 'routine restylane'.
GK:  I just open my eyes, heart, imagination, mouth, mind and ears and then cross my fingers.
Comedy for a lot of people is like a relief from the stresses of life. As the creators of hilarity, how do you personally deal with some of the pressures or struggles you have been through?
GK: I meditate and drink.
JL: I have taken a holistic approach to stress, pressure and struggles, by developing a food and Facebook addition. I turn to food for comfort and to Facebook to let everyone know I have used food as comfort. Because strangers need to know! The life of a performer seems to be filled with uncertainty and I hate uncertainty. I have chosen a career that is at complete odds with my temperament. I find walking is a wonderful way to remain grounded and to clear out my mind so there is ample space in there for when new clutter arrives.
What advice do you have for people struggling to break into comedy or the entertainment industry at large?
JL: I usually answer this type of question with 'Piss Off!' Like I want or need any more competition.  Sorry to be so explicit. You need to be incredibly disciplined, you need to be constantly writing and refining your ideas. And that is just on the creative front. The industry has changed so much since I started working as a comic some 8000 years ago. Social media has given so many performers a jump-start to fantastic and lucrative careers. You have to lose your pride and hustle for gigs. If you don't, there are a million other comics that will. I loathe the hustle. It's just not in my DNA and probably the reason I do not have my own show on television. But that can still happen. Can't it. Oh please tell me it can!!!!!
GK: Surround yourself with fellow travellers, look at yourself critically and ask if you really do have any talent, and if the answer is yes… then work hard.
So one final question… what's making two of Australia's best comedy acts laugh right now?
JL: Oh without a doubt my answers to these questions. Oh and cat videos, of course, there is nothing finer or funnier.
GK: I'm still laughing at Bob Carr's diary.