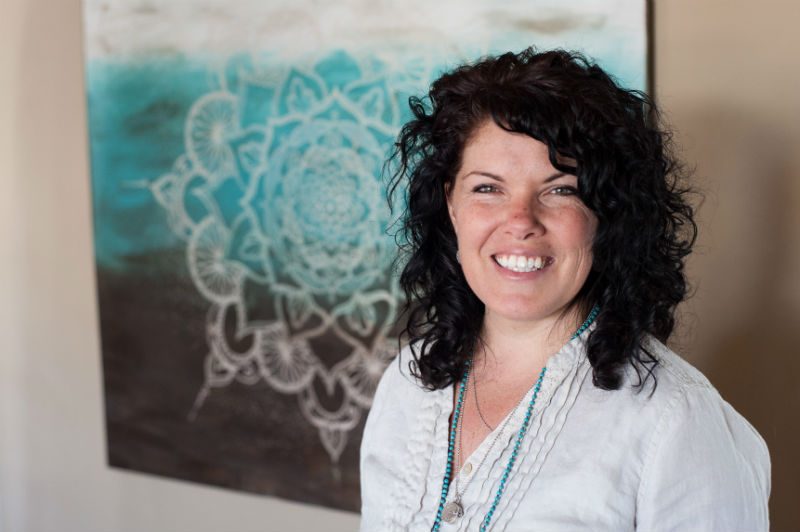 Jamie Locke's mandala art.
One of the richest visual objects in Tibetan Buddhism is the mandala, which is a symbolic picture of the universe. "For me, the process of creating a mandala is always one of inspired revelation, elemental surprise, and pure bliss," says Jamie Locke.
A self-taught artist, Jamie is adept at taking an idea, a vision, or a dream and turning it into reality, whether painted on canvas, etched on a wine glass, or carved into a block of wood. She sees the process as both challenging and thrilling. Her strength is in her hunger for creating, and exploring different methods and mediums, always bearing in mind that in the creative process the dream sometimes evolves into something completely unexpected.
Love is the reason behind everything for her.
"It's a force that I cannot deny nor ignore. It inspires, moves, and compels me to do what I do, and then share it—and out of that comes incredible soul-stirring moments, connections, and relationships."
Married to Martine Locke, an Australian singer-songwriter and her favourite muse, Jamie Locke is also mother to Harley, 16, and Alayna, 14, who has had a huge part in shaping the kind of person she is today. "Being a mother has been one of my greatest joys, however challenging. It fills my heart with love and compassion," she says. In supporting Jamie in her work, Martine pushes her to stay true to herself and her art, while always maintaining a balance between work and home.
Balance is key, and for Jamie, the mandala is not only a form of artistic expression—it's a meditation as well. Like an imaginary palace, the mandala is contemplated, explored, and inhabited during meditation. The mandala's purpose is to help transform ordinary minds into enlightened ones and to assist with healing. It helps Jamie to create from within, to pour that quiet intention into each mandala she carves. Her desire is always to breathe positivity into the world, starting with her own entourage and travelling out peacefully from there. Locke hopes that her creations will inspire, encourage, and put goodness back into the world. She has sold work across the U.S. and in Australia, Brazil, Canada, and Europe. Her wise advice to aspiring artists: "Let go, let be. Give yourself permission to create without judgment, make it a practice, and share what you love. It will be returned to you tenfold."