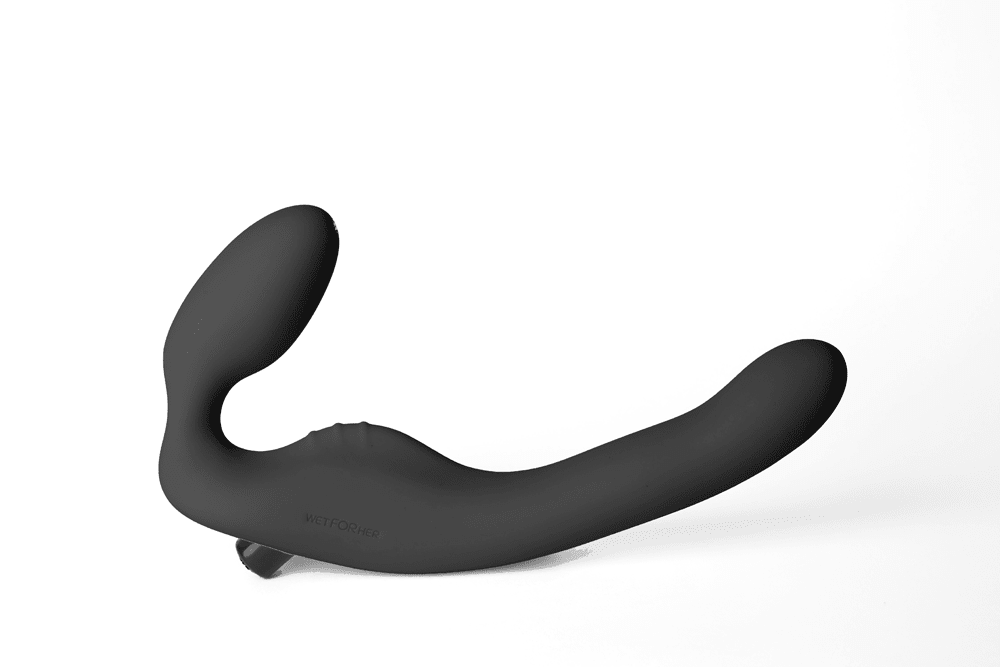 The more-than civil union.
The first time I tried to use a double-ended dildo was painful – both physically and socially. Seduced by its promises of sweet, sweet hands-free lovin', my girlfriend and I jumped at the opportunity to ditch the straps and embark on a mutual, simultaneous pleasure endeavour.
The dildo's silicone was stiff and full of friction, the bulbous "wearer's" end slipped out with every attempted thrust, and the sex toy quickly lost its hands-free appeal as we struggled to hold the thing still for long enough to get a good rhythm going.
Fast-forward five years later to the present day, as I excitedly unwrapped that day's present – the Union double-ended dildo by sapphic-centric sex toy company Wet for Her. Just looking at the sleek box, I knew that my partner and I were in for an entirely different experience than I had bumbled through with my last dive into double-dipping.
First, the high-end, medical-grade silicone the toy is made of is silky, run-your-cheek-across-it smooth and responds positively to both water-based and silicone lube (that's right – their grade of silicone is that good – it can be used with silicone lube). Extra perks of buying medical-grade silicone toys are that you can disinfect them easily with soap and water or you can even boil them for a few minutes for super-sanitary satisfaction (just take the vibrator out first).
Unlike most double-ended dildos, the Union's vibrator is strong enough to feel throughout the length of the toy, features five settings (2 of which pulse) and is both conveniently rechargeable and waterproof (again, for easy cleaning).
After a brief scuffle about who would be wearing the bulbous end and who would be receiving the long, penetrative end (we're both femme bottoms and ahem, I took one for the team and wore the bulbous end) we discovered what really wedded us to the Union – its bendable shape.
In the past, my biggest complaints about double-ended dildos have been their inability to work for a wide range of body types and…how their design seems to assume that everyone is doing their Kegel exercises religiously enough to hold up the weight of a considerable dildo…and then have successful penetrative sex with it. A tall order, in my (apparently weak) vagina's humble opinion.
With one bendable-yet-sturdy copper wire in the centre of their toy, Wet for Her has done what they claim to be doing, "redesigning strapless sex". This copper wire, which bends into place easily but also keeps its shape, makes the Union adjustable not only on the penetrative end of the toy but the bulbous end as well.
This heavenly adjustability made sure everyone's G-Spots were hit, a variety of positions were accommodated, and that both ends of the toy were customizable to each of our bodies and their unique pleasure particularities. The vibrator was strong enough to be felt through the raised ridges of the wearer's end in that sweet little C-spot, though too inconsistently applied due to our body movements for this particular dildo-user.
More importantly, the sheer functionality of the Union's design nixed the pain (both physical and social) of double-ended dildos past and cranked up the pleasure – for both of us. Here are a few tips to use a double-ended dildo:
First, have the person wearing the bulbous end lay on their back so gravity works in your favour to hold up the longer (and heavier) penetrative end and the receptive partner has control of depth, angle, and speed.
Secondly, remember that there are no Olympic sex judges lurking in your bedroom, waiting to score your performance in the strapless dildo sex category: if your Kegel's need to buckle in favour of better bucking, Wet for Her has ensured that the Union is easily harnessable, too.