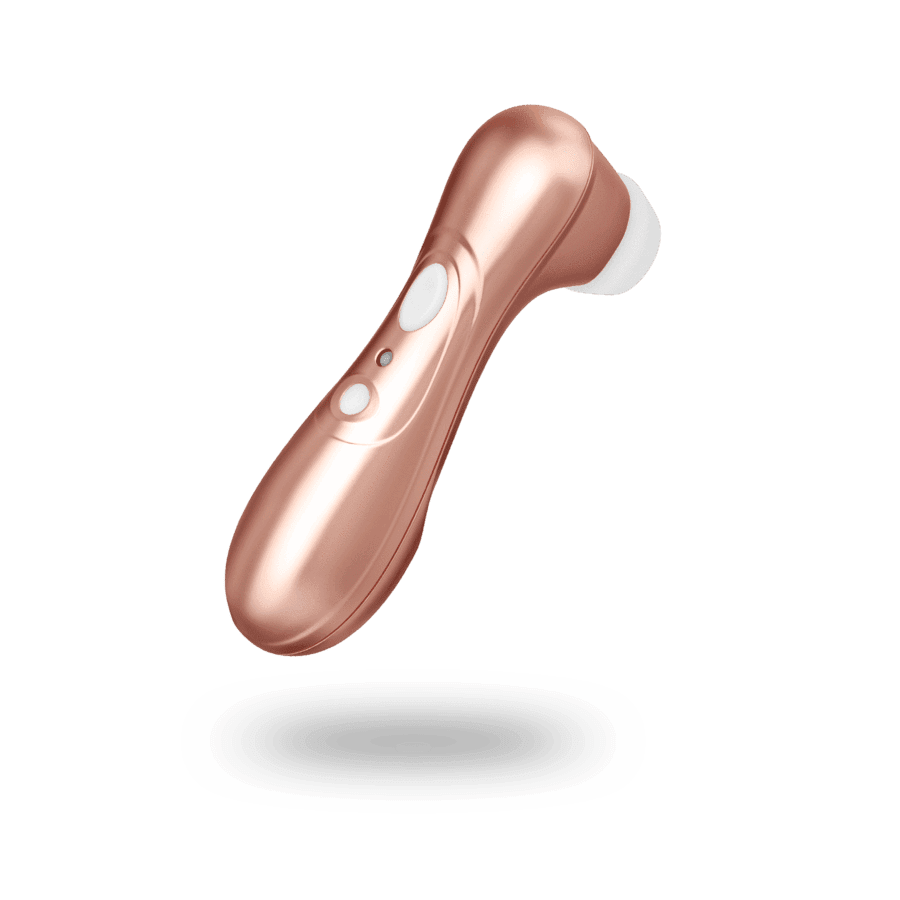 Why the Satisfyer is flying off shelves around the world.
"Have I been replaced?" My girlfriend joked, staring at me in disbelief.
"Why would you ask that?" I replied, catching my breath.
"Well, I've never seen you respond like that before! Don't get me wrong, I loved it, but I'm a little concerned that you won't need me now." She laughed.
I giggled, kissed her on the lips, and then picked up the toy still vibrating on the bed and pushed the off button. "You're afraid of this thing?" I waved it in the air like a sword. "No baby. It's just an add-on. Albeit, an amazing add-on, and one I hope to add-on a lot, but just an add-on."
Earlier that week I had called her from a toy store in the heart of Toronto's "gayborhood" to tell her that I had purchased us a souvenir. I didn't even tell her which store I had purchased our item from, but she knows me all too well. Her reaction had been priceless. "What color? Does it have a remote?" I assured her she would find out when I returned to Florida and promised to put it in the suitcase and not use it without her.
When I arrived home later that week, she greeted me with a long kiss and hug, then quickly moved onto more important matters. "Should I plug it in?"
Now, she wasn't sure if she should plug it in for a recharge or throw it out.
Although I continued to assure her that she was all that I needed, I understood her reaction. The Satisfyer Pro Plus Vibration was O-MAZING! I have tried many battery-operated devices in my adult life. I even sold toys at a local boutique during my summer-after-high-school-and-I-want-to-push-the-envelope-with-my-parents stage, but this toy, by far, was the best I had seen and experienced.
The Satisfyer I purchased is one of several devices designed to provide a gentle throbbing suction to the clitoris. There are a number of units in the product line to choose from and each has different shapes, sensations, and features. I opted for the one that included a vibrating sensation in addition to the suction. I'm NOT sorry I did!
Although I won't go into details, let's just say that my first experience using the toy was orgasmic – over and over again within seconds of hitting the on button.
When I was shopping for the device, I was told by the male sales associate that this unit had been flying off adult toy store shelves around the world. The friend from Iceland, who I was shopping with at the time, confirmed his sales pitch, explaining that it was nearly impossible to find the toy in any store in Iceland, as it had all but sold out. She said that Icelandic men hated the toy, because it was giving women an experience that they couldn't come close to providing.
I laughed in disbelief at the time, but by the look on my girlfriend's face post-use, I knew why.
Still, in my opinion, this toy is a must-have unit for the toy chest (or drawer if you're a beginner). And for those who aren't used to toys, or who don't enjoy the sensation of penetration, this is a perfect enhancer to an already amazing sexual experience.
Single and frustrated? Then go online and order it now!! But don't forget to get out of the bedroom every now and then. Human interaction is still important, although may not seem so mid-pleasure. Remember, the toy doesn't cuddle, or listen to your problems. Although one might argue that its response when you reach for it is always a positive one.
Ready to update your toy collection? Buy the Satisfyer here!