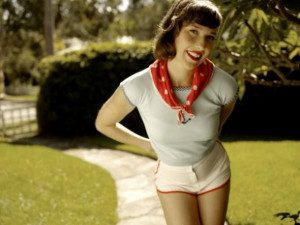 Pop-rock fave Lanie Lane single To the Horses.
To The Horses is a collection of 11 songs that duck and weave through a heady mix of early rock and roll, blues and rockabilly, serving up fantastic tales of love, lust, heartbreak and the importance of a good guitar – all delivered by one of the most undeniably distinctive voices and charming characters in Australian music.
A beautifully evocative video shot by a friend on a ranch in Malibu, California is imminent so keep your eye out.
Lanie has recorded a single with Jack White in Nashville; signing with Ivy League Records; seeing To The Horses enter the ARIA charts at #12; playing two sold-out national tours to ever-growing crowds; supporting acts such as Cold Chisel, rockabilly legend Brian Setzer and Jack White; gracing the covers of countless quality publications; tours of the USA and UK; receiving four nominations at the prestigious 2012 APRA Awards (including Song of the Year), and perhaps most importantly, having the time of her life whilst doing it all.