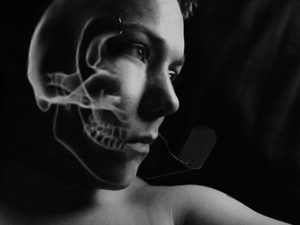 Exploring androgyny and gender-bending through self-portraiture.
Corey Aughtry is hoping to take photography to a whole new level by bringing androgyny out of the closet. Aughtry,  a 29-year-old New York photographer, wants to let gender-bending, genderqueer and old school androgynous folks know they're not alone in this brave new world.
Aughtry began taking photographs, she says, of anything and everything she found beautiful when she got her first camera at age 15. When she came out at age 20, she ventured out to more intriguing arenas—queers, it turns out, makes for captivating subjects. She says her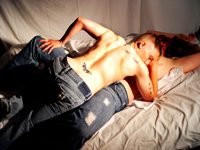 While Aughtry long planned her recent shoot, she had trouble finding models that fit the bill. So she jumped in front of the camera herself. In the process, she found more than she bargained for. While she occasionally uses other models, much of Aughtry's work today is inspirational self-portraiture.
Her sensual photographs, she admits, show love and hope—things that capture the heart and the mind. photographs seek to encourage lesbians to feel comfortable in their own skin, offering viewers a perspective of beauty that you won't find in commercial magazines. She hopes her photographs can give more insight to those who don't fully understand women who transcend gender norms.