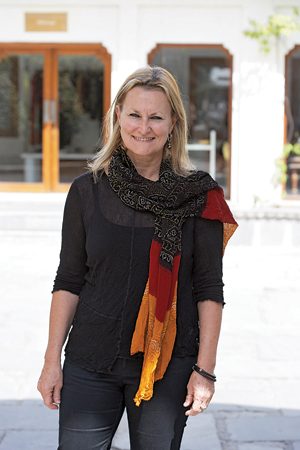 The lesbian chef is blazing her way along the Spice Trail.
Antipodean omnivores have long admired Christine Manfield one of the few out chefs Down Under. Pairing nicely with her upfront identity, Manfield's forte is smouldering international flavours, and her cookbooks Stir, Spice and Fire, place her squarely on the culinary map (along with her upscale restaurants East @ West in London, now closed; the legendary Paramount in Sydney; and Universal, also in Sydney, which was named one of Australia's 50 great restaurants in 2009).
This year, Manfield finds herself showered with yet more accolades for her latest tome: Tasting India. It took five years to write, and during that time Manfield made 11 month-long trips to India, a country she has been in love with for at least 20 years. Tasting India became much more than a recipe book. It's a travelogue and even a semi-autobiography, but the recipes are definitely there —and all 250 of them cover most of the subcontinent.
Unlike in her other books, Manfield didn't create the recipes. Instead, they are heirlooms from Indian cooks, passed down through the generations. Manfield didn't alter them in the least.
"The recipes were entrusted to me to be passed on, to be shared, and they are very much a reflection of where they come from. It's not a Westerner's interpretation of Indian food," she says. The celebrity chef with her own line of food products spent her time in India in people's kitchens, by the roadside, in restaurants and even palaces, taking notes and collating the work. The recipes, she says, are mostly simple, because they come from modest homes that lack the kitchen equipment we are used to in the West.
"I wanted to reflect food in India today. Some of it is ancient. Some of it is based on anecdotal family recipes. Elsewhere, you can see the influences of the world." And the pictures in the book are stunning—from street scenes to photos of the dishes represented by the recipes. In contrast to many cookbooks in which dishes are tricked out to look impossibly delectable, the foods photographed for this volume were created by cooks in their own homes and were unaltered. "They would be cooking it, and when it was finished we photographed and then ate it," says Manfield, with her refreshing Australian matter-of-factness. "That gives it a special character."
The book is a labour of love; this epic project weighs in at a stunning 6.5 pounds. And it is a thing of beauty that appears to glow. "The cover is a turmeric-gold colour embossed with shiny pink filigree. It looks like a sari. It's a serious design statement," Manfield says. "It's very valuable as a travel resource, but I also want people to cook from it."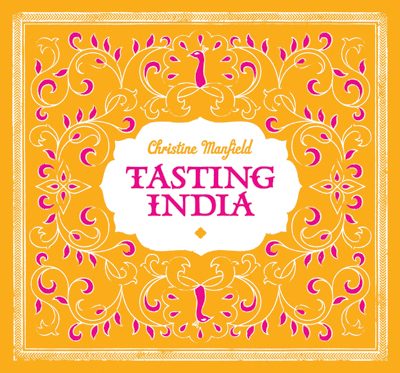 Tasting India is packed with beautiful images—and recipes that actually work. Manfield sifted through thousands of photos with the editors and has compiled so much information about the history of Indian food that she could follow this book up with a second volume. Already on sale in the U.K., Australia and India, Tasting India has been welcomed as authentic by experts on Indian cuisine, even though its author is a foreigner. "I wanted to encourage and empower people to travel. India is entirely different from anywhere else. It's such a rich culture. You can't talk about Indian food in isolation," Manfield says.
Because the book has as many facets as Indian culture itself, it's little wonder that it has already won two prizes, Cookbook of the Year and the Culinary History Award, at the 34th Annual International Association of Culinary Professionals (IACP) Awards in New York City this year. The prestigious and highly selective IACP Awards recognize the crème de la crème of culinary publishing. It is a contender for the third prize in Australia as well.
"When people say, 'What's next?' I say, 'India.' It's a never-ending story," declares Manfield. (christinemanfield.com)