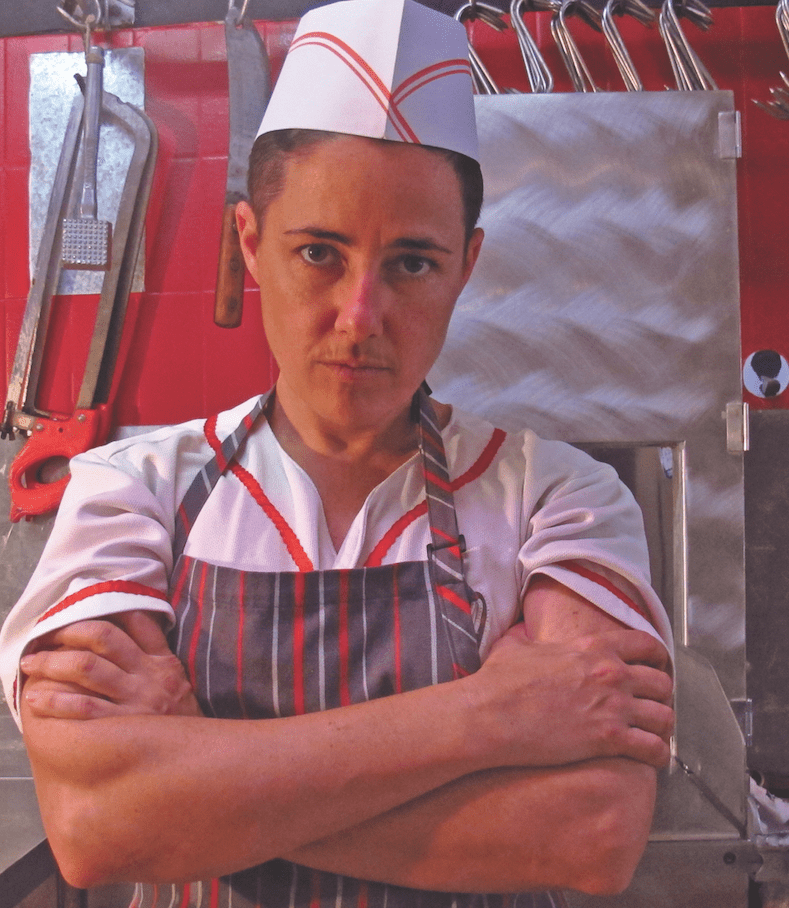 Melinda Dimitriades is armed with an impressive resumé of supplying some of Sydney and London's best chefs with excellent rare breed meats, poultry, charcuterie, and artisan smallgoods.
Now, Melinda owns her award-winning butcher shop, the Chop Shop Carnivorium, which directly serves the home cook in all of us.
It's been a long and winding road for Melinda before owning her butcher shop. A trained chef looking for a little more than what restaurants had to offer, Melinda began working with one of her greatest loves in life: cheese. From there, she travelled and worked, honing her skills and moving into the game meat and poultry world. "Given the wave I saw coming from Europe of rare breeds and provenance, I specialised in heritage breed pork, small goods and charcuterie," says Melinda. "I learnt to butcher the pork and make amazing sausages. Four and a half years from the start, I purchased the business that Chop Shop Carnivorium now occupies in Hurlstone Park."
This year, Melinda won Outstanding Butcher in the Canterbury/Bankstown Area Award, and it's clear to see why the Chop Shop is quickly making a name for itself in Sydney. "The foodies in the area are thrilled that we have arrived. They continue to want the best quality produce and ethical farming at their doorstep. That's where we come in. We are also a real foodie destination given our story, product offering and service," says Melinda.
A huge influence on Melinda was her mother, an excellent and passionate home cook. But Melinda also draws inspiration from the farmers she engages with each day. "The hard work and dedication they have to supply their consumers with ongoing access to clean, honest food is what drives me," says Melinda. "When I encounter queer farmers or artisan producers, the experience is a little more special. Whilst we occupy the margins of society, we also occupy the margins of the food industry as small producers and business owners. My queer customers are the cherry on top, although we also accept regular and the pink dollar."
Describing herself as hedonistic, passionate and very cheeky, Melinda is not just a traditional chef or butcher but an innovation in herself. Her Chop Shop is stocked with seasonal vegetables, aromatic extra virgin olive oils and agrumato styles, as well as barrel-aged vinegar by the kilo and, of course, her beloved cheese, of which her favourite is a Corsican ewe's milk-covered with wild rosemary and juniper called Fleur de Maquis.
"I consider my shop to be more of a cooks shop than a traditional butcher shop," says Melinda. With a huge selection of ethically sourced meats, delicious marinades and all products of restaurant quality, Melinda is helping bring out the chef in all of us, one rare breed pork loin at a time.