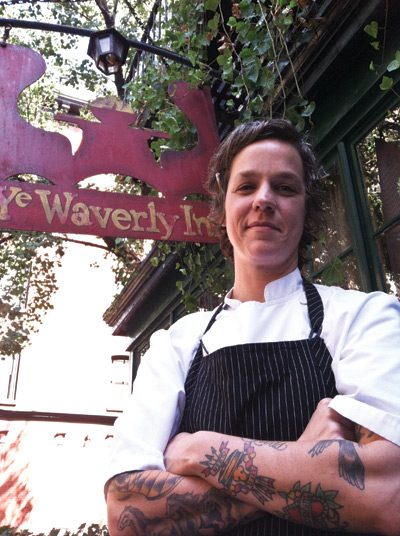 The Top Chef alum brings her aspirations to a New York institution.
When out lesbian and Top Chef alum Ashley Merriman seized the reins at Vanity Fair editor Graydon Carter's The Waverly Inn in New York's West Village last year, she already knew it was going to be a good fit.
The famous and cozy dining hotspot with its trademark red banquettes is a noted celebrity haunt with a constellation of stars from fashion, film, music and media meeting there to see and be seen. On one night you might see Top Chef's Padma Lakshmi and author Salman Rushdie dining next to Tony Award nominee Justin Vivian Bond; on another, Victoria Beckham and Marc Jacobs chatting about a new fashion venture while Calvin Klein grabs a drink at the bar.
Such a famous celebrity haunt might seem a surprising venue for Merriman's cuisine, which she describes as approachable and thoughtful. After all, the well-respected Top Chef alum gained quite a following at Manhattan's Butter and The Darby, where she worked as the chef de cuisine under executive chef Alex Guarnaschelli.
"I was pretty hesitant [when I interviewed for The Waverly Inn], because I had been working hard on my own business plan and was starting the process of raising money to open my own restaurant," Merriman says. "Once I interviewed, however, I knew that it would be a good fit and that it was a huge opportunity."
While the Waverly Inn might not afford Merriman the opportunity to showcase her dishes in the way that her own restaurant would, she has enjoyed the challenge of making the menu her own without completely changing it.
"There are things on the menu here that have been here since day one and won't ever come off—it's my job to make them as good as they can be and make sure that the other food we cook here makes sense with the restaurant," Merriman says.
She has introduced four or five specials each night that allow her to express herself outside the confines of the restaurant's traditional fare. Her biggest focus—and her greatest passion right now, in addition to the food—is the staff.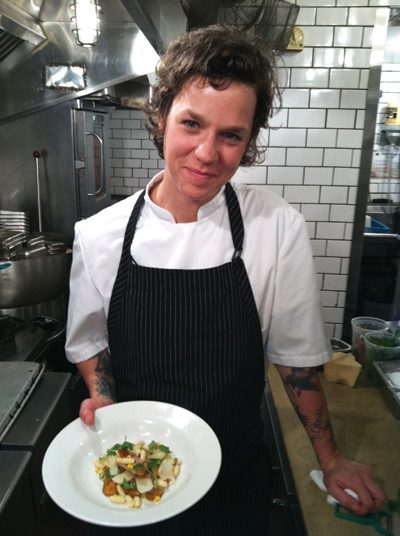 "The way I approach management is that I think it's my job to make the cooks who work for me better than they were the day before," she says. "Ideally, a few cooks will end up better than me—that's my goal. I approach every day like that. And I want to create habits of excellence in all of my cooks, in everything we do.
"I guess that's how my management style could best be described—creating habits of excellence, just trying to bring out the best in every cook who works for me. I'm literally nothing without the people who show up and work for me every day, and I treat them as such."
Merriman's style certainly instils loyalty in her staff. Take, for example, her sous chef, Quinton, whom Merriman nurtured as an intern seven years ago while she was working as a sous chef in Seattle.
"The other sous chef and head chef thought I was wasting my time on trying to teach him and make him better," the out lesbian recalls. "I just saw something in him—tenacity, really—that made me want to push him and make him better.
Today, Quinton sports a tattoo of Ashley's initials on his arm next to a large butterfly, symbolizing his transition and honouring the woman who helped him achieve it.
"I think I helped Quinton develop a style where he tries to get the most out of himself every day, where he pushes himself to be better than he was yesterday, where he learns something new—and that's part of the way he manages the cooks who work for us now," Merriman says.
As for Merriman, she applies her management philosophy to herself as well, always pushing to be better and to reach the next level.
"I'd really love to have my own restaurant at some point, but I'm really happy where I am right now," Merriman says. "I hope in 20 years I can say the same thing—that I'm really happy where I am now."