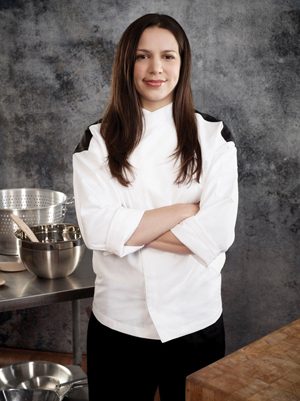 Hells Kitchen winner can take the heat, both in and out of the kitchen
A new lesbian chef is lighting up Hell's Kitchen, the Fox TV reality series that features the world's grumpiest chef, Gordon Ramsay—and he's just one of the show's many challenges. Christina Wilson not only made it into the final-round cook-off in Las Vegas but won it to come out on top of season 10.
During the season, Wilson was reunited with her girlfriend, after five weeks of separation, in what was the first obvious display of lesbian affection in the show's history. This curve reader, who says we gave her the inspiration to be out and proud, recently took time to tell us more about her rise through the ranks.
Where were you on September 10, when the show revealed that you were the winner?
Monday night, I was alongside Justin [Antiorio, the other finalist] at Fox's Fall Junket party in Los Angeles. We had a gruelling press day and actually had a private screening of the finale, which I watched alone and Justin watched with his mother and stepfather. My mother and my girlfriend, Sara, were aware of the results, but unfortunately, I was unable to tell anyone else.
The show's success is slightly based on the surprise factor, so it's important that no one reveal the outcome. Although I wasn't able to be with friends and family, that didn't stop them from having viewing parties—I was able to step away minutes before the show started to give a big thank-you to my hometown, where my mother had organized one.
I was sent a video of the room's reaction to me coming through the door [as the winner] and it was priceless! I wish I could've been there.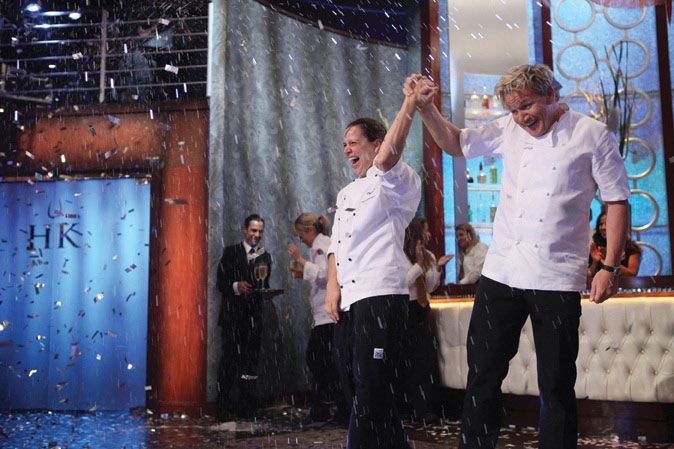 When are you heading back to Vegas to take on your new role at Gordon Ramsay's Steak at Paris Las Vegas? Will your girlfriend be going with you?
I will be headed to Las Vegas tomorrow morning [September 12], not even two full days after the finale aired. Chef Ramsay is a successful businessman, and it's time for me to get back down to business. I will take on the head chef position, working under one of the chef's best, Kevin Hee, who is the current executive chef there. Unfortunately, Sara will not be with me to see all of this come to life. She has her own PR firm and has obligations to her clients. I will be bringing the most loyal and loving female in my life, my fancy domestic shorthair, who is always in her tuxedo. Her name is Oodie. I picked her up on the second day of her life, and we have been inseparable since. It will be nice to have her to come home to, for sure.
You're originally from Jersey and have lived in South Philly for a number of years. Are you looking forward to some desert living?
I am proud to say I was raised in Phillipsburg, and have lived in Philadelphia or the surrounding suburbs for almost 15 years. I am definitely looking forward to the move—the first big move I've made in my life—and I know it's the right choice to make professionally.  I will miss my East Coast family for sure, but it's time to put my head down and push forward to accomplish all I desire in this life.
It seems that more lesbians are open about their sexuality in the restaurant industry, and in kitchens in particular. What has your experience been?
It's my life. It's who I am. I think I've been lucky in that I get along with most people right away, and I take my craft seriously, so it's my work that makes me respected in a kitchen, not my sexuality. I have the thinking that if you liked me and worked well with me before you knew I was gay, and then changed your tune once you found out, that makes you the asshole, not me!
Reality TV has apparently taken your already successful career to a new level. Was it a calculated risk to go to Hell's Kitchen? 
It was definitely a risk to go onto HK. During my tenure, I left a really great job [at Mercato] that was chosen as one of the 10 Best BYOBs in the Country by Travel & Leisure magazine. But the truth is, I pretty much maxed out at that job. I hit a plateau and there was no more room for real growth.
Then along came this opportunity to essentially interview for a position under highly decorated chef Ramsay, and with a $250,000 salary. I was nervous about the cameras and the microphones.  I knew I was allowing myself to be vulnerable to a country full of critics. And they really don't hesitate to tell you what they think.
I do my best not to read the negative online comments, and luckily I am able to duck almost all of them. But people can be really hurtful, and it wasn't something I was necessarily prepared for. At the end of the day, it was a job that I wanted, so I went for it.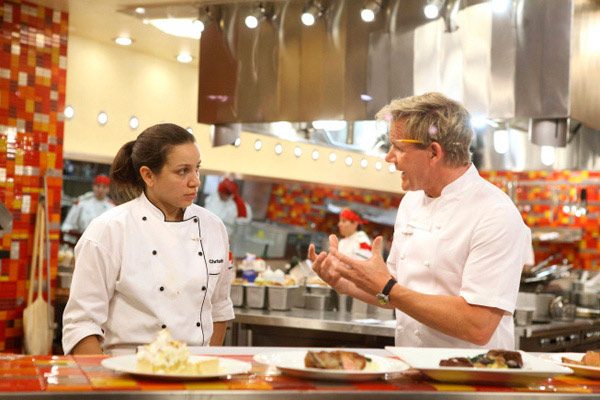 What advice would you give to young women who want to enter the culinary field?
It's traditionally a man's profession, but that is rapidly changing. Don't lose focus or determination. Eat out as often as possible and keep ahead of food trends. Make New York's and Chicago's restaurant scene your playground. Don't take constructive criticism personally. It's meant to help you. Don't listen to any other form of criticism. It's meant to hold you down.
What's next for you, both short-term and long-term?
Next, I spend a year working with chef Ramsay's team in Las Vegas. After my contract is up, I will see what opportunities are presented to me. For now, I just want to get back into my chef's whites, doing what I love to do. Ten years from now? Of course, I hope to open my own seasonal restaurant back in the state I love, New Jersey. Once my body can't hold up to the 15-hour days, I'd love to go back to school and get a master's in nutrition.
I want to work with kids and young adults and teach them how to cook and make healthier food choices. Obesity is plaguing our country and destroying our youth. I'd love to make eating healthy and working out fun again!