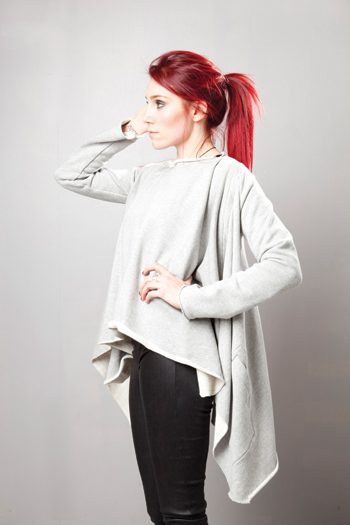 The fiery-haired and sexually fluid musician spills the tea on her new EP "We Could Fall in Love" and touring as a DJ for the Chippendales (yes, those Chippendales).
Hesta Prynn, aka Julie Potash, is a true artist.  As a prolific musician, DJ, TV Host and fashionista, everything she touches turns gold.
Prynn's most recent EP We Could Fall in Love is a three-song collection released in lieu of a traditional LP. A group of songs that could really only be described as bomb-ass dance tracks give a nod to dub-step and have a fair share of booty-shaking beats. "I think the entire idea of putting out a full album is a bit dated at this point. I'd rather put out EPs quarterly," Prynn says. "I chose three songs I was excited about that exemplified the direction I'm moving in as a writer."
The video for We Could Fall in Love is just as notable as the EP. Directed by Randy Scott Slavin, the video was made from the perspective of making videos "like high school art projects."
"Neither of us is afraid to just shoot and talk and see what happens," Prynn says. "We shot this video in a studio instead of on location so that was something new. The video itself was created through our discussions, bouncing ideas around and being open to the process."
Prynn's collection of videos reflects the intensity with which she creates. Whether it's sex-kitten-dance goddess, in Turn, it Gold or horror queen in Seven Sisters, Prynn's creativity and willingness to explore every facet of that, is as compelling as the art itself.
The first track on We Could Fall in Love, "Beside Me," has a sexy dub-step vibe. "There is definitely a nod to dubstep on that track," Prynn agrees. "I really enjoyed watching the development, transformation and constant reinvention of this genre over the course of the past few years. I wanted to acknowledge my enjoyment of it by dipping a toe in before the moment has completely passed."
"We Could Fall in Love," a dance floor must-have, conjures images of steamy clubs and mystery… if the mystery were a dance track.
"The song 'We Could Fall in Love' is about parallel universes, about what could happen, possibilities, changing your destiny and living a new life," Prynn says. A theme many people can identify with.
When asked to describe her style in three words, she replies "Real fucking fly." Which is totally appropriate, because she is. After touring the country as a DJ with the Chippendales (yes, those Chippendales), Prynn describes the experience as "The most amazing job ever, really!"
"They are like an uber-masculine version of RuPaul's Drag Race – they wear costumes and lip-synch to really kitschy songs in different genres. Those guys are super pro and really take pride in what they do, so it was a treat to be included on that tour."
What's next for the DJ-Musician-TV Host? "Continuing to DJ and grow as a writer. I have some songs coming out with different dance artists, so I'm excited about that. I want to do more TV hosting and meeting amazing people," she says. "I also want to continue to fight the good fight politically. I feel really blessed to have this career and very grateful for all the support that I've received."
It won't be long before we hear something new from Prynn. As prolific as she is ever-evolving, we know to expect something fresh, innovative and, well, real fucking fly.