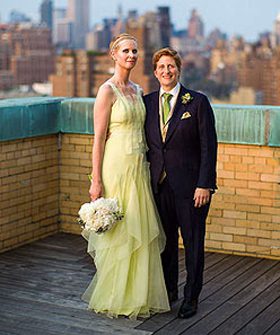 Cynthia Nixon spoke about how same-sex marriage bends the rules.
Cynthia Nixon married longtime partner Christine Marinoni in a ceremony in New York City earlier this year, after a long engagement.
The couple, who were engaged for three years, was waiting for marriage to become legal in the state of New York before tying the knot.
When it came time to decide on a dress, Nixon told Elle Magazine about her green Carolina Herrera number:
With a same-sex marriage, it's different. There isn't the archetype of the demure bride, the strapping groom, and the big ol' white dress. You have a lot of flexibility. I actually said to them, "Don't think of me as a bride. Think of me as a grown-up woman who needs a dress to get married in." But Carolina—or, rather, Mrs. Herrera—kind of nipped that in the bud. She said, "You need to get a dress with a capital D. So even if it's not poufy or white, there's a certain level of ceremony."