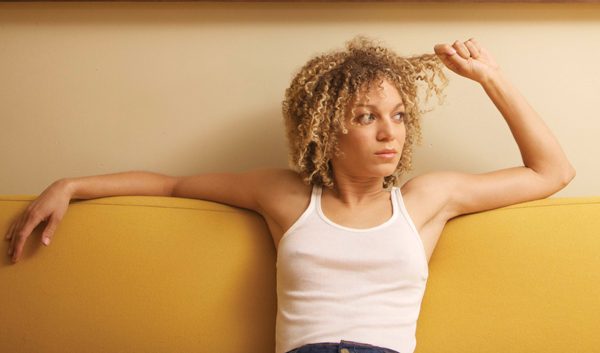 The talented, bisexual musician finds her voice.
Fairfield, Conn., is not a town that turns out a lot of biracial, bisexual singer-songwriters. Trust me, I grew up one town over. For the most part, Fairfield is wealthy, white bread, conservative New England. The best-known musician it has produced to date is probably John Mayer.
But it also happens to be where Fay Wolf—a biracial, bisexual singer-songwriter—grew up. Raised by a black mother and a white, Jewish father, Wolf focused on acting first. She joined theatre groups as a kid and spent her 20s appearing in TV shows that ranged from All My Children to Chappelle's Show to NCIS: Los Angeles. Then, a few years ago, she began writing songs. After she released an EP called Blankets in 2010, her fantastic full-length debut, Spiders, appeared this past November.
Spiders contain 11 original songs and is heavy on lush, sad piano ballads; indeed, her motto is "Fay Wolf will make you cry." But if the album is melancholy, it isn't monotonous. Songs like "Mine" channel Tori Amos, while "See Monkey" leans more toward Suzanne Vega. The album's closer, "Backstage Girl," could have come from a musical. But the standout, to these ears at least, is a breathtaking song called simply "Was." Wolf says, "It's a true love song [and it's] one of the songs that were written pretty quickly. I'm happy with the way it turned out."
Then there's "Black People," which is jazzier and a bit less serious than most of the tunes on Spiders. "[It's] one of the first songs I ever wrote," says Wolf. "It's obviously about my racial identity and my confusion about that. But as far as the specifics of what it means—I don't know!" she laughs. She adds, "I enjoy telling people the title [of that song] during live performance. Whenever I say 'This is called Black People' and whenever I say 'This is called Dead Dads and Sad Moms,' there's uncomfortable laughter!" Onstage, Wolf is a natural, perhaps because of her background in theatre.
When it came time to record her album, Wolf-like an increasing number of artists these days—went about raising money through the website Kickstarter.com. As it turns out, she surpassed her goal of raising $15,000. "I was hesitant at first about essentially asking people for money," she admits. "But then I saw so many musicians and artists and inventors describing really beautiful experiences. You know, it's not just people throwing down money—it's people who care about the specific projects and want to be involved at this grassroots level. And, working backwards, I'll say that sending the updates after the fact has been really exciting for people. I get lots of responses from my backers and my friends when I send out the updates. They're just so excited to be a part of it. So it's this lovely experiment that I tried and that worked out. I really needed the money to finish it and get it out there, and I literally could not have [done that] without the campaign."
Wolf is nothing if not uncategorizable. Not only is she biracial and bisexual, but even her musical influences also run the gamut. On the one hand, she cites Amos, Ani DiFranco, and the Indigo Girls. But on the other hand, Wolf is an unabashed fan of hair metal and grunge. Surprisingly, she lists '80s MTV acts like Skid Row and Warrant as bands that she loves, as well as Seattle mainstays from the '90s like Soundgarden, Pearl Jam, and Screaming Trees. Admittedly, it's hard to hear the influence of Skid Row in her music!
Being uncategorizable can be a blessing and a curse, though. Wolf tells me, "Growing up in Connecticut, and basically growing up in a white world, the little flak I got was from the black community. It's tough. Because my skin is essentially white, I found that I got more flak from the black kids than the white kids. I was getting called Oreo by the black kids.
"I've had this experience in the bisexual world as well," she adds. "There's a bisexual fight going on that, unfortunately, is sometimes against our own community. Sort of what I was touching on earlier, about being able to pass and being made fun of for having feet in two different worlds. From my standpoint, it's just one world—which is me."