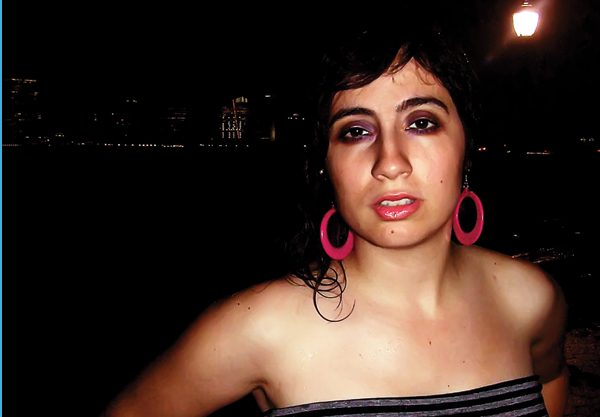 Get ready to fall under this out rocker's spell.
White Widow is the nom de rock of Massachusetts-bred, Austin-born singer Carla Patullo who has been making albums for half a decade now—culminating with Black Heart.
Sometimes she pursues a more standard, hard rock direction. In other instances—such as with that album's terrific track "I Break"—she takes a more minimal, electronic approach which is even more effective because of its subtlety. You always get the feeling she is one step away from going over the edge, but she never does.
I caught up with Patullo recently from her adopted hometown in Texas. As an out lesbian artist, I wondered how she's been accepted in George W. Bush's home state. "I never thought I would live in Texas," she admits with a laugh. "But being out here, and being a part of the Pride event that happened, was actually pretty amazing. I'm fortunate to be in Austin and I feel really good energy from the gay community here…I think sometimes it's more [that just] being a woman in this industry can be a little difficult. But I wouldn't necessarily say that about being gay."
Patullo's exudes a ballsy, rock chick vibe and her music is infectious and mainstream-friendly.
So, it's fitting that she cites PJ Harvey and Stevie Nicks as two of her main musical influences. In fact, she got the White Widow moniker from Nicks. "Fleetwood Mac is one of my favourite bands," says Patullo. "And [Stevie] refers to the black widow in her song 'Gold Dust Woman.' I kind of came up with the idea of White Widow because there's this sadness to [my music] but… edgy but bright, I guess, is what I'm going for." So far, it seems to be working. Her songs have already been featured on both the big and small screens; the title track of Black Heart was recently used in the MTV series Teen Mom.
This year looks to be a big one for Patullo. In addition to her own music, she's excited about her work on the upcoming EP by a friend and mentors Sandra Bernhard. "It's Sandra's EP but I'm producing it and performing the instruments on it," she explains. "There's a couple of songs that we wrote together. It's going to be like a six-song [disc]—all originals. We just recorded it about a month ago." It's the first time that Patullo has produced someone's music other than her own. Of Bernhard, she says, "She's definitely been a huge influence for me performance-wise. And she's actually a really great singer. Working with her [has] been really inspiring."
In addition to the Bernhard project, Patullo is hoping to release A Psychological Thriller, the follow-up to Black Heart, sometime this summer.
Asked whether the new album will be different from its predecessor, she says, "I'm producing everything and performing everything again, so that won't be different. But it is definitely moving in a [new] direction. I'm doing more fictional writing now, which is pretty new for me. I'm kind of moving out lyrically where I've never gone."