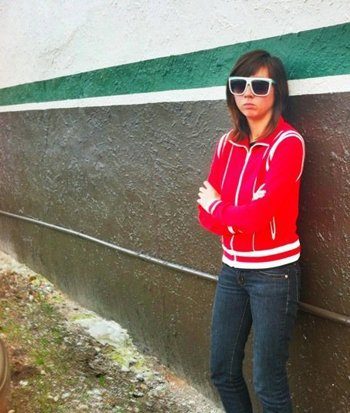 Discover the hot queer podcast using multimedia as a platform to increase the visibility of queer musicians.
Those of us who have indulged in a guilty pleasure or two know Wilmington, N.C. as the backdrop for teen soaps like Dawson's Creek and One Tree Hill. Its mile-long dock and towering antebellum homes make the small port city a picturesque setting for any hormone-fueled melodrama. It's also where a teenaged Lynn Casper, experiencing decidedly less idyllic adolescence, struggled with coming into her queer identity. Feeling alienated and lacking a supportive community, she turned to two sources of comfort: the Internet, which connected her to like-minded teens, and the local Wilmington music scene. Years later, at 27, Casper's continued interest in these outlets was the driving force behind Homoground, the queer-focused multimedia platform she launched in January 2011.
Equipped with the skills she picked up as the social media strategist for Working films, a Wilmington-based non-profit that uses documentary filmmaking to effect social change, Casper and the small-but-growing Homoground staff—all volunteers—have been working hard to help queer musicians reach a bigger audience. Because she remembers the important role both music and the Web played in the formative years of her life, Casper hopes the site will inspire the next generation of queer music lovers.
"I just kind of figured that others were going through the same thing," she says. "I just wanted to provide a community and a resource for them to seek out [support] and find role models that they can relate to and identify with."
Currently, Homoground's primary venture is a weekly podcast featuring queer musicians from across the country but, like any good New Media outlet, the website also has an active Twitter feed, a themed mixtape series, and a slew of Youtube videos. The website features all the expected big names, like queer-alt supergroups Wild Flag and The Butchies, as well as lesser-known and up-and-coming acts.
"We play all the music that people send us, as long as they're down with what they're doing," Casper says. "We don't discriminate if their music is a home recording that they did in their room or some high-quality, produced thing."
So far, Casper says Homoground has garnered a great reception from its audience, the majority of which is thrilled to have access to so much queer music in one place. According to Casper, it's a situation in which everyone wins: "The bands too are usually really appreciative that we're playing their music, but we wouldn't have any music if it weren't for them, so we're really appreciative of them making it!"
Want to check out Homoground for yourself? Head to homoground.com to find out how to subscribe to their weekly podcast.