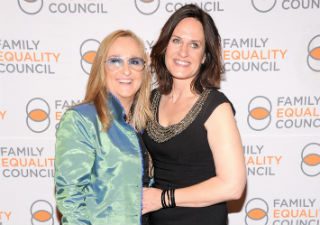 Our favourite rocker Melissa Etheridge officially finds love again at 53
Life begins at 50 and beyond. Or so is the case for lesbian music superstar Melissa Etheridge, who married her ladylove, Linda Wallem, on Saturday, June 3.
Two days after they turned 53, Melissa Etheridge and partner Linda Wallem, the creator of the hit TV show Nurse Jackie, were wed at the San Ysidro Ranch in Montecito, California, at the foot of a majestic mountain range.
People magazine reported that the ceremony was intimate and outdoors and that Etheridge sang Wallem a new song she wrote for her. Etheridge wore a grey suit, while Wallem was in a white dress. All four of Etheridge's children participated in the wedding: Bailey Jean Cypher, 17; Beckett Cypher, 15; and twins Miller Steven Etheridge and Johnnie Rose Etheridge, 7.
High-profile guests at the wedding included Jane Lynch, Chelsea Handler, Rosie O'Donnell, and recording artist Sia.
"The ceremony was such a beautiful start to the night," a guest told People magazine. "The setting was perfect. It was something Melissa and Linda wanted early on. It was as perfect as they envisioned."
Etheridge and Wallem had been friends for more than a decade before they began dating in 2010. They announced their engagement last June, and Etheridge, who has had high-profile relationships and breakups with Julie Cypher and Tammy Lynn Michaels, has called Wallem "my true love." Etheridge, an outspoken activist for LGBT rights, had Tweeted after the repeal of DOMA that she looked forward to her full civil rights, including "getting fully, completely and legally married."
Etheridge, a Grammy Award-winning singer-songwriter, has a new solo album scheduled for release in September, and we hope the new wedding song has been cut! Happy Birthday and Mazel Tov, ladies!