Plus, June Diane Raphael dishes on New Girl, Angela Robinson interviews Amanda Overton and Clinical Trials' new music video.
As if the possible split of Calzona isn't enough, Sandra Oh announces that she is leaving Grey's Anatomy. Her character, Yang, has been such an important character in the show and we're sad that she's leaving. There's no word on how Yang will exit the show.
"Creatively, I really feel like I gave it my all, and I feel ready to let her go," Oh tells The Hollywood Reporter. "It's such an interesting thing to play a character for so long and to actually get the sense that she wants to be let go as well. [Cristina] wants to be let go, and I am ready to let her go. We have to start the process, story-wise, for the Grey's writers to think of why she's going to go." Sigh. [SheWired]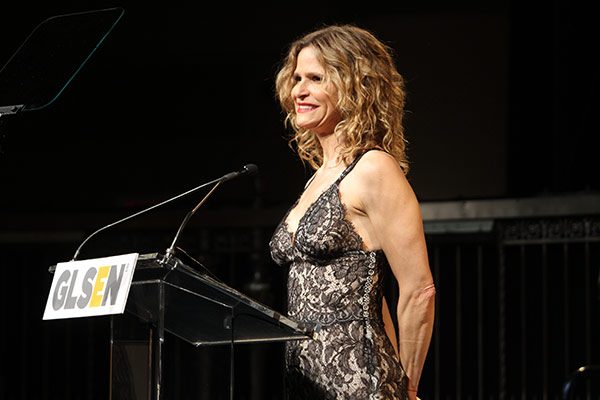 Kyra Sedgwick joined the board of directors for GLSEN (Gay, Lesbian & Straight Education Network). She says, "There is just no room in our education system for bullying, and GLSEN is on the frontlines striving to make schools safer for not only lesbian, gay, bisexual and transgender students, but for all youth. I have been a GLSEN supporter for years and am excited to become even more involved with their outstanding mission to create safe and respectful schools for our young people." Woo, go Kyra! [AfterEllen]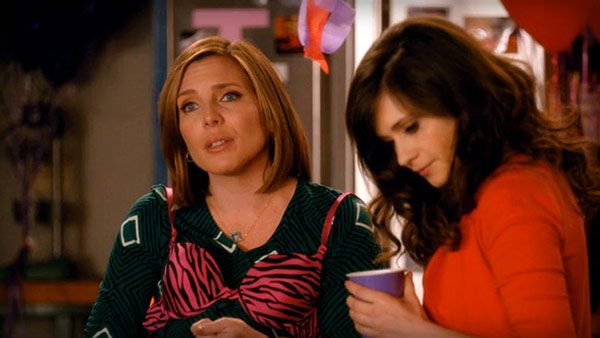 Remember the lesbian OBGYN on New Girl that gave Schmidt some tips on pleasuring a woman? Well, you may see her again! At least we hope so. June Diane Raphael, who plays Sadie on the hit show, hopes to see more of her character.
"I feel like I hope somebody gets sick in the loft. I hope somebody gets deathly ill so I can return," she said. "Right now I don't know if Dr. Sadie's going to be back, but I feel like she will."
Raphael will be seen in the new film Ass Backwards directed by Lea Delaria from ">Orange is the New Black. The buddy comedy follows Raphael and Casey Wilson's characters on a road trip where they happen to come across a woman's militant group and among other things. [AfterEllen]
HBO's newest documentary Americans in Bed, which aired last night, follows the lives of 10 couples who discuss their relationships and how sex fits their lives. One pairing includes a lesbian couple named Linda and Margie from L.A. Both Linda and Margie tell their individual stories including how they were both previously married to men.
"I feel like I've met my soulmate, the person that completes me, you know?" says Margie about Linda. "I had a hole in my chest and when I met her, that hole is filled and I feel like a whole person now and not a part of a person, being with her."
Check out this heart-warming video of Linda and Margie from Americans in Bed. [AfterEllen]
Speaking of lesbian couples, Rachel and Laurel from Oregon were denied a wedding cake from Sweet Cakes bakery in Gresham, Ore. last January. The owner Aaron Klein refused to bake their wedding cake and said that they were "an abomination of the Lord" and the couple filed for a discrimination suit. Klein may have violated the state's anti-discrimination statute. As we recall, the couple did get a cake from none other than Duff Goldman from Ace of Cakes. He offered the couple a free cake and delivered it to their ceremony in Oregon free of charge and the couple accepted his thoughtful offer. You can learn more about their case from Oregon's KATU: [SheWired]
Amy Poehler and Aubrey Plaza really do love each other. And they show their affection for the paparazzi. Awww, so cute! [BuzzFeed]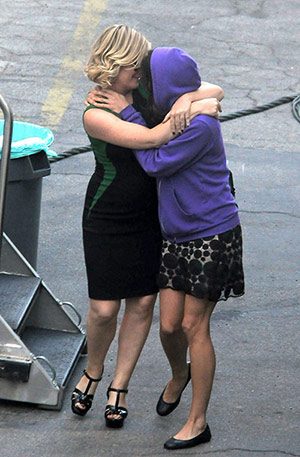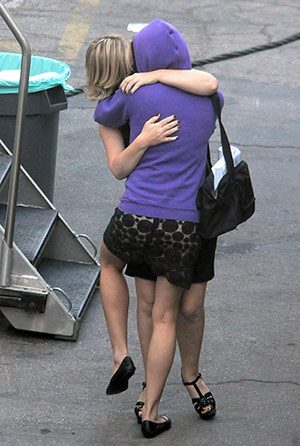 The Bomb Girls star Anastasia Philips dishes on her role in the upcoming new show Lucky 7 premiering next month on ABC.
"No one is flawless, no one has it all together, no one has their life sorted out—it's a real human piece," says Philips on Lucky 7.  "It's character driven, much like Bomb Girls, and I think that's wonderful. You tune into witness a little bit of truth, a little bit of feeling like you're part of something larger than you, it has the same sort of spirit behind it. And I just feel like—I've been very fortunate because it seems like the projects I get to work on are touched by that magic. It's really special. It's really special in this industry." [AfterEllen]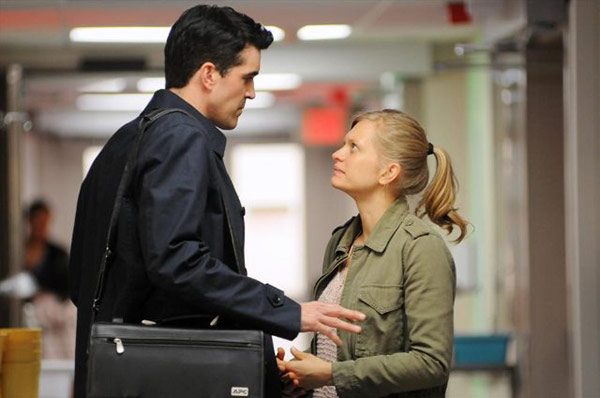 The creative mind behind D.E.B.S. Angela Robinson interviews Amanda Overton for AfterEllen about her new web series Edge of Normal. We've got part of the interview here and Robinson is a natural.
Angela Robinson: Amanda, I had a great time watching your new web series, Edge of Normal. It's totally up my alley; teenage lesbians with superpowers! Done. I was sold.
Amanda Overton: Awesome, I'm so glad you dig it!
AR: Where can people watch it?
AO: We're on Wonderly, a new YouTube channel dedicated to foregrounding female artists and creators. It's a rad space for girls and I'm so happy that they have partnered with us on Edge of Normal.
AR: How'd you get the idea?
AO: I was watching The Dark Knight, not Rises, the older one, ages ago and I think I saw every single mega-budget superhero movie that summer and there just weren't many women in any of them. I mean there were, but they were playing the girlfriend or the damsel in distress and were all sort of just periphery to the story and the male leads. I was like, "Where are all the women heroes? Why can't we be heroes too?" So I decided I was going to make a superhero story, but I was going to make it all about girls, they would be the heroes, they would have the power and they would be the centre of the story. And that's how Edge of Normal was born. [AfterEllen]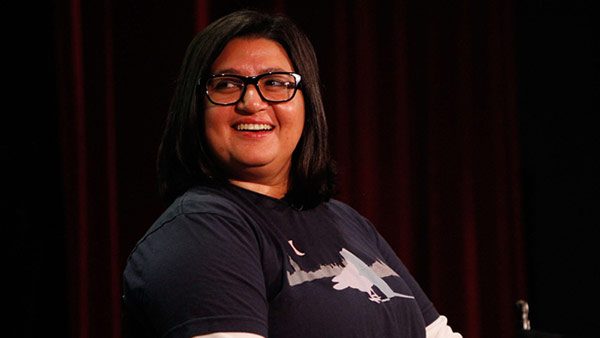 Out producer and writer Nahnatchka Khan (the mind behind Don't Trust the B in Apt. 23)  is working on a new pilot with ABC called Fresh Off the Boat, which is based on Eddie Huang's memoir. His memoir  is "set in the '90s and revolves around a Chinese family that moves to Orlando." [Deadline]
The Russian (yes we're talking about Russia again) Ministry of Internal Affairs proposed a don't ask, don't tell for the Winter Olympics. They "issued a statement [yesterday] confirming that LGBT athletes and spectators will be safe – as long as they don't discuss or disclose their orientation," according to the statement.
The statement reads that "The law enforcement agencies can have no qualms with people who harbour a nontraditional sexual orientation and do not commit such acts [to promote homosexuality to minors] do not conduct any kind of provocation and take part in the Olympics peacefully." [SheWired]
A new documentary Comics Undressed is looking for funds on Kickstarter. The documentary "examines the economic, gender-based, and racial misrepresentations that occur in the comics industry." Hurry, there are only three more days left to donate! [Kickstarter]