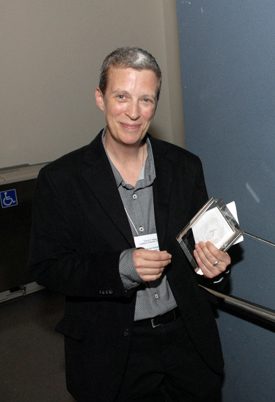 Both new and veteran names round out the list of this years award-winning queer writers.
105 finalists representing 72 publishers competed for awards—including our own editor in chief Diane Anderson-Minshall's mystery Blind Faith (Bold Strokes Books)—at the 21st Lambda Literary Awards May 28, in New York City.
Women who walked away with the awards, which honor LGBT literary excellence, included Jenny Block for Open (Seal Press) in the Bisexual category. The Transgender category winner was Thea Hillman for Intersex (For Lack of a Better Word) (Manic D Press). And Carolyn Gage took home the prize for The Second Coming of Joan of Arc (Outskirts Press) for LGBT Drama.
Jane Rule's Loving The Difficult (Hedgerow Press), Nicole Kimberling's Turnskin (Blind Eye Books), and Regina Kunzel's Criminal Intimacy (The University of Chicago Press), were honored in LGBT Nonfiction, Sci-Fi/Fantasy/Horror and LGBT Studies respectively. The Bruise (Fiction Collective Two/University of Alabama Press) by Magdalena Zurawski won for Lesbian Debut Fiction, as did In Deep Waters 2 (Bold Strokes Books) by Radclyffe and Karin Kallmaker for Lesbian Erotica, and Sex Talks to Girls: A Memoir (University of Wisconsin Press) by Maureen Seaton for Lesbian Memoir/Biography.
Other lesbian category winners included Josie Gordon's Whacked (Bella Books) for Mystery, Judy Grahn's love belongs to those who do the feeling (Red Hen Press) for Poetry, Karin Kallmaker's The Kiss That Counted (Bella Books) for Romance, and a winning tie between Emma Donoghue and Chandra Mayor in Lesbian Fiction.
Lambda also honored authors Leslie Feinberg, Andrew Holleran, Felice Picano, and Edmund White for their groundbreaking contributions to LGBT literature with their Pioneer Awards. (www.lambdaliterary.org) [Yana Tallon-Hicks]
The Publishing Triangle doled out their Triangle Awards to the best of the best in lesbian and gay fiction, nonfiction, and poetry at their 21st annual awards ceremony May 7, at the New School in New York City.
The Judy Grahn Award recognizing the best nonfiction book of the year affecting lesbians, whether written by a lesbian or about lesbian culture, was handed to Andrea Weiss for her work In the Shadow of the Magic Mountain (University of Chicago Press).
An award named after the influential poet, Elizabeth Bradfield received the Audre Lorde Award for her poetry in Interpretive Work (Red Hen Press). Honoring those who are not primarily writers, but influence the literary world as editors, agents, and librarians, Publishing Triangle's Leadership Award was given to Carole DeSanti, for her advocacy for LGBT books as the first openly lesbian editor at a major American trade publisher.
Among many accomplishments, DeSanti also acquired Dorothy Allison's widely received lesbian work Bastard Out of Carolina. The Ferro-Grumley Awards for lesbian and gay fiction honor the memory of authors Robert Ferro (The Blue Star, etc) and Michael Grumley (Life Drawing, etc), life partners who died of AIDS within weeks of each other in 1988. Alison Bechdel took home the humbling award for The Essential Dykes to Watch Out For (Houghton Mifflin Harcourt). (www.publishingtriangle.org) [Yana Tallon-Hicks]
The Golden Crown Literary Society held its fifth annual literary awards ceremony, celebrating the best in lesbian writing, on July 25 in Orlando, Fla. at the Hilton Walt Disney World Resort. And the Goldie goes to… Curve's own Lyndsey D'Arcangelo, who was recognized in the Debut Author category for her novel The Trouble With Emily Dickinson (Alpha World Press).
In the Traditional Contemporary Romance category, KG MacGregor walked away with the award for her book, Without Warning (Bella Books). She also won in the Romantic Suspense/Intrigue/Adventure category for Secrets So Deep (Bella Books), as did JLee Meyer for Hotel Liaison (Bold Strokes Books). Kate Sweeney won in the Mystery category for her newest Kate Ryan mystery, The Trouble with Murder (Intaglio Publications). The first book in this beloved series won the GCLS award for Debut Author in 2007. This year Sweeney also walked away with a Goldie for her novel Residual Moon (Intaglio Publications) in the Speculative Fiction category.
For the hottest award of the night, editors Verda Foster and Pat Cronin won in the Erotica category for Blue Collar Lesbian Erotica (Regal Crest), a collection of hot and steamy stories from authors such as Foster and Cronin themselves, Radclyffe, Karin Kallmaker, Victoria Oldham and many more. In the Dramatic General Fiction category Ellen Hart won for her novel The Mortal Groove (St. Martin Minotaur), part of her long-running Jane Lawless mystery series. Karin Killmaker won the Ann Bannon Popular Choice award for The Kiss That Counted (Bella Books) and Lee Lynch, the Sapphic author who has been writing lesbian fiction since the 1960s, won the GCLS Trialblazer Award for lifetime achievement, in recognition of the all the contributions she has made to the world of lesbian literature  [Ariel Messman-Rucker]