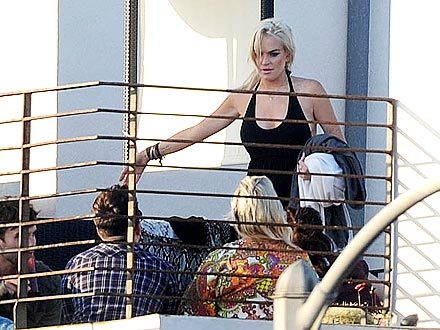 Plus, the faux lesbian blogger story deepens, a sneak peek at actor and musician Heather Peace's new web doc and a look at Navajo "two-spirit" people.
Lindsay Lohan doesn't let little things like an ankle bracelet monitor, random drug tests and probation officer visits come between her and a good party. She threw a rooftop party for her and ten of her friends for a Keeping Up With the Kardashians premiere party. Lohan tweeted to Kim Kardashian,  "So excited for the season premiere of Keeping Up With the Kardashians Season 6 tonight on E!" Kim replied, "This season is crazy! Love u." In other Lohan news, she recently tweeted a video of her NoH8 shoot. We can't wait to see the photos! [People]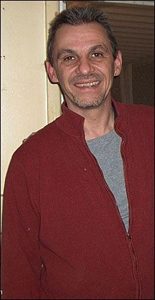 Let's hope that the sudden trend of straight white men coming out as lesbian bloggers stops with Bill Graber, 58, the man behind the site LezGetReal. The site, which advertises itself as "A Gay Girl's View on the World," has actually been the views of Graber, a retired military man and construction worker who lives in Ohio. One day after it was announced that Tom McMaster was the "Gay Girl in Damascus," Amina Araff, Graber came out to say he had been running the site under her wife's name, Paula Brooks. Suspicion arose when it was noticed that Amina Arraf of "A Gay Girl in Damascus," had written about the Syrian uprising on LezGetReal before starting up her own blog. When the Washington Post put pressure on "Paula Brooks" for an interview Graber admitted, "I am Paula Brooks." Too bad. Maybe if Graber and MacMaster were really lesbians they could've found true love. After all, as the Washington Post reported, "In the guise of Paula Brooks, Graber corresponded online with Tom MacMaster, thinking he was writing to Amina Arraf. Amina often flirted with Brooks, neither of the men realizing the other was pretending to be a lesbian." [Jezebel]
Drop Dead Diva is heading into its third season and will premiere Sunday, June 19 at 9/8c. We're feeling good about this season – check out the trailer and look out for Wanda Sykes, Margaret Cho, and Paula Abdul.
Speaking of Margaret Cho, she was on The Talk this week, discussing her open bisexual marriage and her love of strong butch women. By the way, how freaking hot is Sara Gilbert lookin' like we didn't already love her enough!
"The place where two discriminations meet is a dangerous place to live," is a remark made in the trailer for Two Spirits, a documentary made by PBS about Fred Martinez, a Navajo "boy who was also a girl." The trailer of the film includes a song by Patti Smith.
British bombshell import Heather Peace, who our lucky U.K. and South American readers will recognize for her turn as hot lezzie cop Sam Murray in Lip Service also happens to be an amazing musician. Now Peace has announced that her much anticipated U.K. tour documentary will launch as a four-part web series on her website heatherpeace.com on Monday, June 20. Sounds like the perfect way to get to know Peace while we wait (fingers drumming impatiently) for Lip Service to make its way to the U.S.