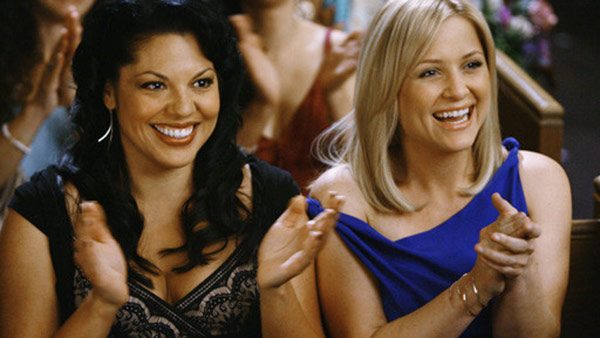 Plus, Two women host nightly news shows, Rookie Blue's lesbian pairing and Lady Gaga's leaked song from ARTPOP.
Shonda Rhimes tells The Hollywood Reporter that she may consider a lesbian divorce on the 200th episode of Grey's Anatomy. We don't want to see Callie and Arizona split! This may be the first lesbian divorce featured on television. Tear. [TheHollywoodReporter]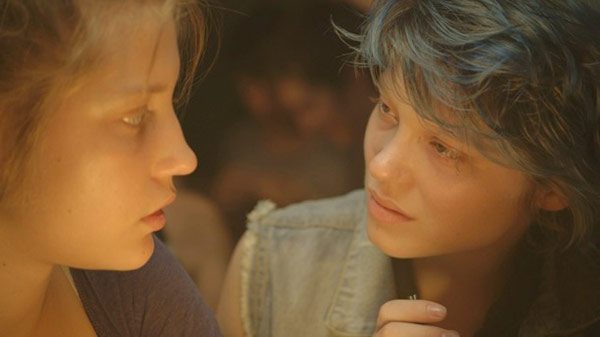 Two lesbian charged films will be playing at the Toronto Film Festival this Fall. Blue is the Warmest Color, a French lesbian love story between two teenage girls with sexually explicit scenes. And Violette, a film about an acclaimed French bisexual novelist Violette Leduc starring Emmanuelle Devos as the title character. [AfterEllen]
What's better than watching women hosting a news show? Two women hosting a nightly news show. For the first time ever, Gwen Ifill and Judy Woodruff will co-host NewsHour, making them the first women on television to host a nightly news show. When Newshour was first televised Jim Lehrer and Robert MacNeil were the two co-hosts. Now, these empowered women will take over permanently. Ifill and Woodruff worked together before and they couldn't be more thrilled to work side by side again.
Ifill: "I am so pleased to be taking on this new role alongside my colleague and dear friend Judy Woodruff. We've successfully worked side-by-side for many years covering conventions, elections and countless other news events. We make a great team."
Woodruff: "Gwen and I love working together and appreciate the trust viewers put in the PBS NewsHour, both on TV and online. Working with Linda and this entire terrific team, we'll do our best to make sure the next chapter for the NewsHour upholds its reputation for excellence, independence and integrity." [Jezebel]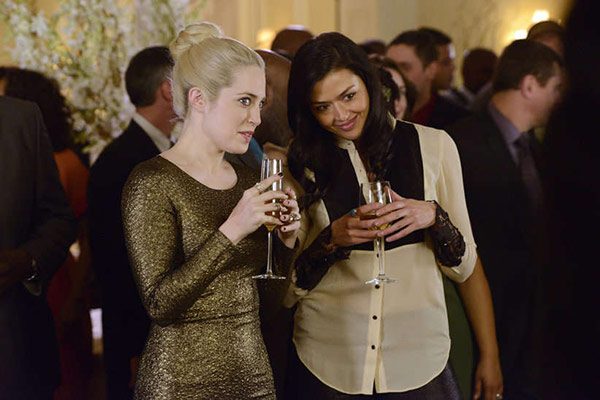 Something steamy is stirring up on Rookie Blue – a new lesbian pairing that is. If you haven't been watching the show, Gail Peck played by Charlotte Sullivan recently met a lesbian forensic pathologist, Holly played by Aliyah O'Brien. And according to IMBD, O'Brien will be on the show for at least six more episodes. [AfterEllen]
Speaking of more lesbian duos, we can't get enough of The Fosters' Teri Polo and Sherri Saum. On and offset, they seem to be crazy about each other. The adorable duo dish on their crazy chemistry and taking selfies. Check out their interview with Access Hollywood. [AfterEllen]
In more television news, Rebel Wilson is executive producing and starring in her own new show Super Fun Night on ABC premiering Oct. 2. Rebels play the role of Kimmie, a lawyer who meets new friends at work after a promotion forcing her to shake up her nightly routine with her two best friends, one who may even explore her sexuality on the show. [AfterEllen]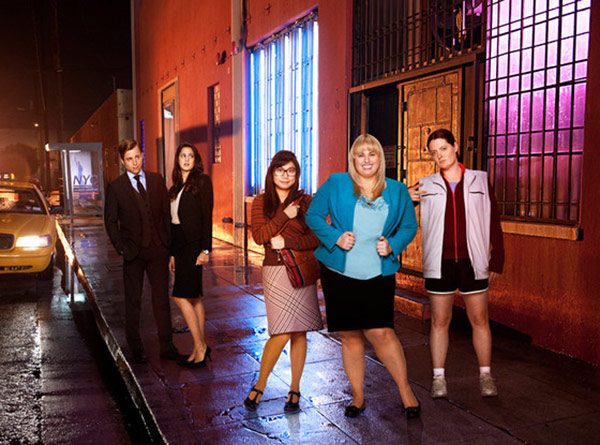 Taking a turn away from television, more protests flourish the nation. Activists in San Francisco protested outside the Russian consulate in an effort to raise more awareness and in a response to Russia's band on LGBT propaganda. [AfterEllen]
Now it's time to wrap up your Tuesday with a controversial song Burqa leaked off of Lady Gaga's album ARTPOP, releasing November 11. Tell us what you think in the comments. [Refinery29]