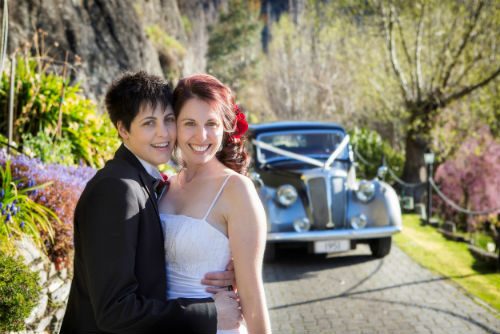 Jess and Kate Lawrence were the lucky winners of the DNA Gay Ski Week's Gay Winter Wedding competition
Marking the culmination of the week-long celebrations for the lesbian and gay community, approximately 16 of the couple's closest friends and family jetted in for the big day.
"We're over the moon to have won such a fantastic prize of the perfect wedding; our dream wedding, the perfect start to "forever", said Mrs and Mrs Lawrence.
"They say, 'adventure finds those who seek it, but this time our adventure found us. Thanks so much to Sally, Gay Ski Week and the Wedding Association members who have helped make this possible."
The happy couple, who hails from Newcastle, Australia, was named the winning couple after the original winners had to withdraw due to family reasons.
It was then "all go" as Jess and Kate called friends and family to tell them the good news and entice them over to Queenstown to join them for their wedding day.
The couple were married at the stunning Trelawn Place, where local photographer Fredrik Larsson captured the poignant moments before they were whisked away by helicopter to Cecil Peak for more precious memento photos.
The couple, who stayed at Novotel Queenstown as part of the prize, also celebrated with bubbles, a wedding cake, stunning flowers and arrangements and luxury transportation.
DNA Gay Ski Week organiser Sally Whitewoods said it was a "beautiful day" and "the perfect end to the perfect week".