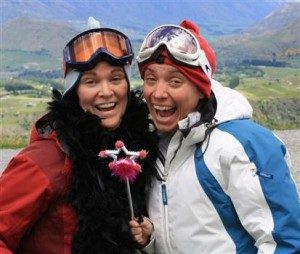 Gay Ski Week in Queenstown could prove the perfect place to celebrate your same-sex wedding.
Local organisers of Gay Ski Week Queenstown are 'delighted with the news that same-sex marriage in New Zealand is now legal.
Queenstown wife and wife team Sally and Mandy Whitewoods said they were 'over the moon the law was passed in Government last night and are looking forward to celebrating with friends and visitors at this year's event from August 31 and September 7.
"This is such an amazing achievement for same sex couples in New Zealand and across the globe," said Sally Whitewoods. "We're already fielding Facebook posts, emails and calls from friends who're thinking about heading over to New Zealand to get married."
"Queenstown's just the perfect wedding destination, so we're fully anticipating there will be a number of same-sex couples choosing to get married here during Gay Ski Week. We'd love to hear from them so we can help out with their plans and make sure their celebrations tie in perfectly with the range of activities and fun times we've already got on offer. It could be a blast!"
Known as the Southern Hemisphere's largest Winter Pride event, hundreds of gay men and women converge on Queenstown for a week-long celebration of skiing, socialising and evenings full of fun.
Firmly established as a 'must do' on the national and international Gay and Lesbian calendar this year's event is billed as being bigger and better than ever.
Sally Whitewoods said tickets were already going well for this year's events but urged potential attendees to book well in advance so they didn't miss out."Some events always sell out, but if we do have any tickets left on the night for door sales, people will end up paying more."
The programme kicks off with a bang at the More FM Opening Party at Barmuda on Saturday, August 31. Guests will start the night with a celebratory glass of Veuve Clicquot before hitting the hottest nightspots of Queenstown. People are encouraged to dig out the party frocks for a night of 'poignant love and delectation' at the opening night of the cabaret-style show "La Cage Aux Folles". Limited table seats are available for this event which promises to be a highlight of the week. Other highlights this year include 'Bingay', a take on traditional bingo and the Broken Shed Casino Royale evening at the Skyline Gondola.
For the first time ever, Sally and Mandy are also raising funds for charity, donating six per cent of the accommodation revenue from bookings at Novotel Queenstown to the New Zealand AIDS Foundation (NZAF).
"Queenstown is the adventure and party capital of New Zealand and the wedding destination of choice for many," said Sally. "What better time and place to celebrate your wedding than in this amazing town during the Southern Hemisphere's biggest winter pride festival? A wedding or two would be the icing on the cake for this year's event. Who knows, Mandy and I may even make our civil union official!"