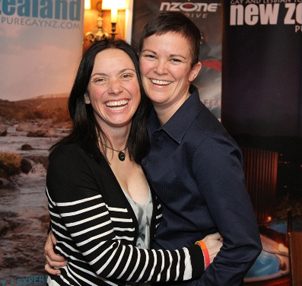 Event organisers and visitors are already making plans for 2013.
The week-long winter pride event closed with The Gaydar Fluoro dance party at The World Bar in Queenstown, NZ, on Saturday night, bringing DNA Gay Ski Week to a close.
Organisers Sally and Mandy Whitewoods estimate the event brought through more than 1,000 visitors to Queenstown and the Southern Lakes region throughout the week. They said they were "thrilled" with the success of their first event and "blown away" with the level of support shown by the Queenstown community. "We've hosted jam-packed events all week long and it just couldn't have gone better," said Whitewoods. "We knew we were off to a great start with significant pre-event ticket sales, then as the week went on interest just grew and grew."
DNA Gay Ski Week QT also organized a local business competition, the More FM 'Gay on the Bay, requiring Queenstown businesses to submit a photo of their best 'gay effort'. The images were posted on Facebook and those businesses campaigned for Facebook 'likes'.
"The businesses that took part in Gay on the Bay made a huge effort so well done to all of them," said Whitewoods. She also said she and her wife Mandy could not have achieved what they did for their first event without the support of sponsors and the Southern Lakes community. "This year was all about us showing the gay and lesbian community the standard of event we are capable of putting on, and encouraging them to visit Queenstown and the region all year round and not just for Gay Ski Week. The support of sponsors has been outstanding and we're looking forward to welcoming many of them back for 2013."
Sally and Mandy Whitewoods announced the dates of next year's Gay Ski Week Queenstown which will be held from Saturday, August 31st until Saturday, September 7th 2013. More details about the 2013 programme will be posted on gayskiweekqt.com.