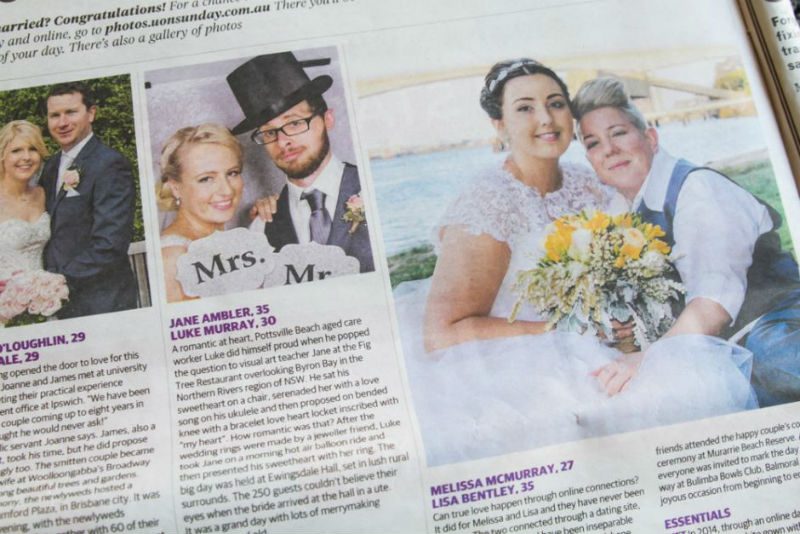 The brides were not expecting to see their picture in the local news.
Brisbane couple Melissa McMurray and Lisa Bentley recently became the first same-sex couple to be featured in a Queensland newspaper's wedding section.
The couple held a ceremony six weeks ago in Murarrie and celebrated with 60 of their closest friends and family.
About the ceremony, Ms Bently says, "it was just like a marriage in every other way bar the way the Government sees it. It's not a political thing, it's just two people who love each other regardless of what they do when they get home."
Melissa and Lisa sent their photo into the paper but say they did not expect to see it printed.
Their photographer who called early Sunday morning delivered the news to the couple.
The two hope the photo will encourage people to talk about same-sex marriage.
"I think it's opened up the door for conversation. Whether it's positive or negative it means that it's on the tip of people's tongues, and people will start hearing different views. I really think it's going to start pushing us in the right direction and in the right places."
The previous LNP administration removed state-sanctioned ceremonies for civil partnerships but the current government has made a move to reinstate the ceremonies.
The MPs for the LNP have been given permission to vote however they see fit when the topic of the ceremonies is debated in State Parliament next week.
When marriage equality passes, Lisa and Melissa say they will be the first in line to receive their marriage certificate.
"We'll have that piece of paper; it would be special to be considered equal with everyone else."