These new videos highlight exclusion of LGBTIQ Africans from social, political, and economic spheres.
OutRight Action International, the global human rights organization, is releasing a video series starting Tuesday, Nov. 17th, that explores how LGBTIQ Africans are excluded from mainstream social, political and economic participation in most countries—in violation of their basic human rights.
The "Cost of Exclusion" series features prominent African LGBTIQ activists and others, including Melanie Judge of South Africa; Chesterfield Samba, director of Gays and Lesbians of Zimbabwe; Edwin Cameron, a justice of the South African Constitutional Court, the country's highest court, and an advocate on behalf of HIV/AIDS; and Zakhele Mbhele, South Africa's first openly gay member of Parliament.
Commissioned by OutRight International and produced by a South African Production Company, Doti Productionz, the film series highlights institutionalized homophobia, violence against LGBTIQ people and draconian laws that violate the basic human rights of LGBTIQ Africans.
Mbhele, South Africa's first gay Member of Parliament, says:
"LGBTI people are made invisible in the political space and democratic processes and as a result then get excluded from agendas such as health, education, safety etc."
OutRight, working with partners across Africa, is dedicated to changing laws on the books in 38 African countries that carry criminal sanctions against homosexuality and transgenderism, including imprisonment and fines. More broadly, LGBTIQ Africans face exclusion, discrimination and violence across many aspects of their daily lives.
In the video on social exclusion, Snowy Mamba, outreach coordinator at Transgender and Intersex Africa, explains how she was attacked and sexually violated in 2012.
"I went to the police seeking help and they didn't treat me with respect and dignity above all before the law and the constitution that we have…I am a human being!"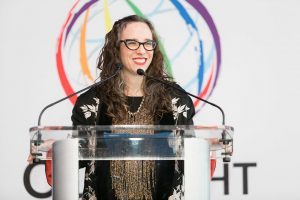 OutRight Executive Director Jessica Stern said the series highlights the negative impact social, political and economic exclusion has on the lives of LGBTIQ Africans.
"This series puts human rights in the context of employment, housing, education and shows how widespread discrimination — and the violence that often goes with it – acts to undermine an entire community," she said.
In the video on economic exclusion, Pierre Brouard, deputy director for the Study of Aids South Africa, cites a recent study on emerging economies that showed a link between more progressive climates for LGBTI people and other economic indicators in society. "As those societies became more accepting of minorities, the economies were doing better…it suggests to me that when people are included in the society and they are healthy, they can be productive and contribute to the GDP of their countries," concludes Brouard.
Shehnilla Mohamed, OutRight's Africa program coordinator, said there was no doubt that excluding African LGBTIQ citizens prevents them from playing a productive role in society and overall has a negative impact on the development trajectory on the continent.
"LGBTIQ Africans are excluded for a range of reasons, including the politicization of LGBTIQ rights and the scapegoating of LGBTIQ people by government leaders. Some African leaders will threaten and ridicule LGBTIQ people while campaigning before major elections as a way to deflect from corruption and poor leadership," she said.

"During the production of the videos, we realized just how little information, research and data there is on the social, economic and political exclusion of LGBTIQ Africans," said Mohamed. "LGBTIQ Africans are nearly totally excluded from analysis and research. So the question is: how can people become empowered citizens when they're made invisible?"
She said OutRight hoped the videos will raise awareness and encourage dialogue and debate around the issues.
As political activist Melanie Judge said in the economic-focused video:
"People who are economically excluded and can't participate fully in the economic development and activities of a country will also feel a knock on effect in social and political exclusion."
The Political Cost of Exclusion will be released on Tuesday, Nov. 17th.  The cost of economic exclusion will be the theme of a commemoration on that day at the United Nations. They are titled: "'We Are Not Broken!' – The Social Cost of Exclusion" and "'Don't Waste Our Talents' – The Economic Cost of Exclusion"
The series was made possible under a grant from the Swedish Development Agency (SIDA).