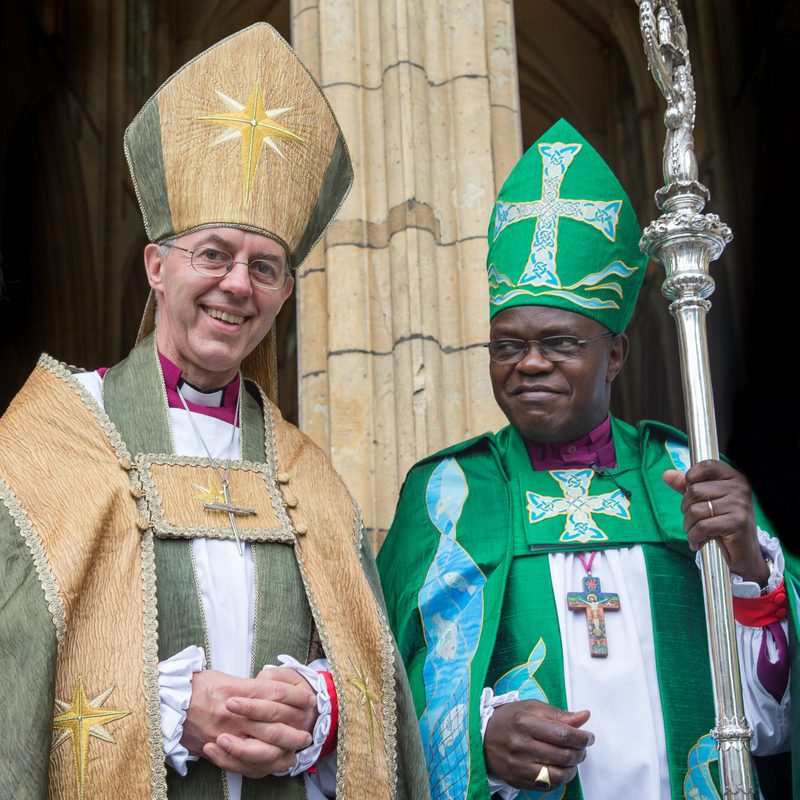 The archbishops of Canterbury and York have written to Anglican church leaders in Africa and the presidents of Nigeria and Uganda to criticise new laws criminalising homosexuality.
Justin Welby and John Sentamu told Nigerian and Ugandan presidents that victimisation of gay people is "anathema".
Justin Welby, the leader of the world's Anglicans, and John Sentamu, second in rank to Welby, said in the letter that "victimisation or diminishment of human beings… is anathema" to the Church of England and that it was committed to "pastoral support and care of gay people".
Nigeria enacted a law outlawing homosexuality this month, while Uganda's parliament has passed an anti-homosexuality bill that still awaits endorsement by the president before it becomes law.
"We wish to make it quite clear that in our discussion and assessment of moral appropriateness of specific human behaviours, we continue unreservedly to be committed to the pastoral support and care of homosexual people," the prelates wrote.
"The victimisation or diminishment of human beings whose affections happen to be ordered towards people of the same sex is anathema to us. We assure homosexual people that they are children of God, loved and valued by Him and deserving the best we can give – pastoral care and friendship."
The letter, published on the Church of England's website, comes days after an African-led traditionalist group opposed to growing acceptance of homosexuality in the worldwide Anglican Communion rejected a Church of England plea to review its Bible-based condemnation of gays.
'Deeply troubling'
Kenyan Archbishop Eliud Wabukala, chairman of the group, said it was "deeply troubling" that Anglicanism's mother church was trying to project a British debate about "that which God calls sin" onto the world Anglicanism.
Church of England bishops agreed in London on Monday to hold a mediated dialogue throughout the 80-million member Communion to reflect on Biblical passages about gays in a way that could make Anglican churches more welcoming to them.
The Communion has been split for years over gay rights and Biblical authority, especially since its US branch – the Episcopal Church – ordained a gay bishop in 2003.
Several of its large African member churches have put up determined opposition to any reform and helped unite traditionalists in a large faction that at times has seemed ready to break away from the more liberal churches in Britain and North America.
"We cannot … allow our time and energy to be sapped by debating that which God has already clearly revealed in Scripture," said Wabukala, chairman of the primates' council of the Global Anglican Future Conference (GAFCON).

"Such dialogue only spreads confusion and opens the door to a false gospel," he said in a statement on Wednesday.
While the mother church has inched towards more openness to gays, homophobia continues unabated in countries that have only moved to enact anti-homosexuality laws.