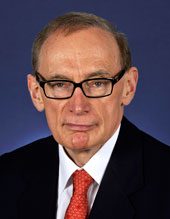 Australia's Foreign Affairs Minister Bob Carr has announced Australia has launched a formal protest with the Nigerian and Ugandan governments for their proposed anti-homosexuality laws.
Foreign Minister Bob Carr today said Australia had lodged formal diplomatic protests against proposed legislation in Uganda which would make homosexuality punishable by life imprisonment, and in Nigeria where new laws would impose a 14-year sentence.
"These anti-homosexuality measures are a disgrace to human decency and should be withdrawn," Senator Carr said. "Australia has consistently opposed these Ugandan and Nigerian laws.

"We've conveyed this message directly to these governments and urged them to think again on these laws. And we'll continue to voice Australia's opposition if these matters are again brought before the Ugandan or Nigerian parliaments in 2013."
Senator Carr said Australia had formally objected to the proposed laws in talks with Ugandan and Nigerian officials in November 2012. This follows earlier protests by Australia in 2010, 2011 and in January 2012.
In November 2012 the Australian Senate also passed a motion opposing the proposed laws and urging Uganda and Nigeria to uphold lesbian, gay and transgender rights.
Homosexuality is illegal in both Uganda and Nigeria and punishable in Uganda by up to 14 years of jail.
Uganda's proposed new laws would extend the penalty for homosexual acts to life imprisonment, with a three-year sentence for those who fail to report alleged "offences."
Nigeria's Same-Sex Marriage (Prohibition) Law has passed its Parliament but is not yet signed into law. The law introduces sentences of up to 14 years for homosexual acts and also potentially criminalises advocacy for LGBT rights.
In addition to Australia's objections, Uganda's and Nigeria's proposed anti-homosexuality laws have drawn condemnation from US President Barack Obama and the governments of the United Kingdom, Canada and France.