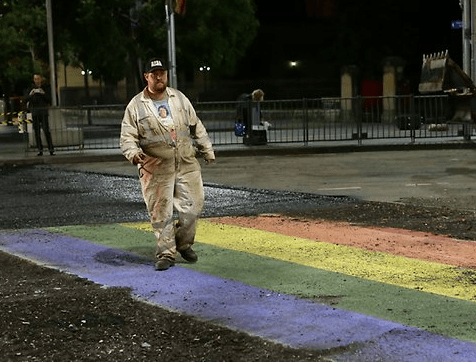 Despite widespread community support to keep it and a Facebook and Twitter campaign, the Rainbow Crossing at Oxford St has been tarred over – returning it to its nondescript past.
Despite widespread support from the local community, Sydney's  Lord Mayor Clover Moore, and the 1000s of tourists who'd flocked to photograph it in the past weeks, Oxford Street's Rainbow Crossing is no more.
The Rainbow Crossing was initially installed on Oxford St at Taylor Square as a celebration of the areas' longstanding history within the LGBT community. Permission was initially granted for a temporary Rainbow Crossing to replace the regular pedestrian crossing but many members of the LGBT and local community loved the crossing so much, that members of the public and the Sydney City Council petitioned to keep the crossing as a permanent fixture.
The subject of the Crossing was brought before Parliament with many community members hoping to persuade the Roads Minister to reconsider his position to remove the colourful fixture.
Instead, a snap decision was made by the Roads Minister to remove the crossing – with pedestrian safety cited as the main concern.
Council workers moved in during the night on April 10 to lay tarmac over the rainbow colours and by morning the crossing was no more.
A spokesman for the Roads Minister commented:  "The rainbow crossing trial was for one month until the end of March, a trial with which the City of Sydney Council agreed."
"The Council had a road occupancy licence for tonight and tomorrow night but the CEO of RMS was informed by Council that it would not be removing the rainbow crossing today or tomorrow but would apply for another road occupancy licence next week.

"Based on safety grounds and the Council's own safety audit which found the crossing could be a potential hazard to pedestrians and motorists, it was decided to remove the crossing."

Member for Sydney, Alex Greenwich, described the removal of the crossing as "an aggressive act from the Roads Minister".

"The workers were instructed last minute from the highest levels to come and get rid of the crossing. Everyone in the state should be concerned that the Minister is using emergency powers and not notifying and consulting with the local community and businesses."