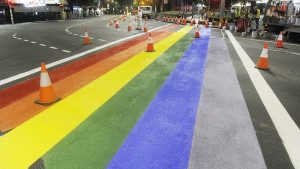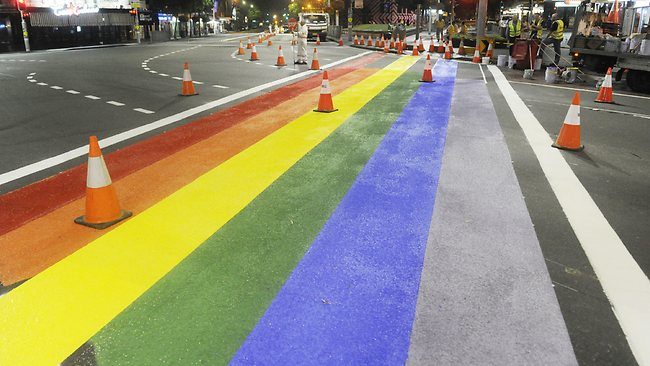 Oxford Street has been transformed overnight with rainbows to honour Sydney Mardi Gras' 35th birthday.
To celebrate Mardi Gras and the contribution of LGBTI people in the Darlinghurst area, pedestrian crossings have been painted in rainbow colours.
Painters worked through the night to complete the crossing – with the first pedestrians making the walk over from 9 am this morning,
The rainbow crossing has been installed in time for the Mardi Gras parade on Saturday 2 March, when a record 108 floats and 10,000 people will march with pride along Oxford Street.
With more than 375,000 visitors attracted to the city each year by Mardi Gras celebrations, the crossing will provide recognition of its historical and cultural significance, to the people of the city and visitors from around the globe.
The rainbow crossing cost an estimated $110,000 – a budget blowout from the original $75,000 –  due to added conditions by the RMS such as video surveillance and variable message boards.