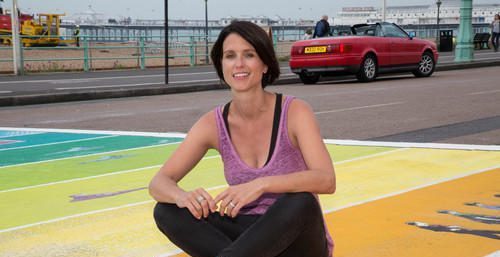 Follow The Rainbow Brick Road
No, Dorothy, we're not in Kansas anymore. We're in the UK! Madeira Drive in Brighton was given a bold makeover on Monday morning as street artwork representing Europe's first official 'rainbow crossing' was unveiled to celebrate the release of We Can Change, a new song celebrating LGBT Pride month and championing equal rights by actress, musician and local resident, Heather Peace.
Created by local artists overnight, the rainbow stretches across the road at the artists' quarter of Madeira Drive and is expected to attract hundreds of people keen to follow the rainbow brick road for the first time in Europe.
"I knew there could be no better place in Europe to create a Rainbow Crossing than in my hometown of Brighton," said Peace. "We Can Change is my big gay anthem. It's an empowering tribute to equality and I wanted the crossing to be a beautiful symbol to represent that during LGBT Pride month. It's a gift from me to anyone that embraces diversity."
Over the last few years, rainbow crossings have become synonymous around the world as a celebration of diversity. Artist Martin Duvander launched the first crossing in West Hollywood in 2012. Since then, official crossings have been unveiled in cities including Sydney, Melbourne and Tel Aviv, while unofficial DIY crossings have popped up in places like Moscow, Paris, Shanghai and Cambodia as marks of protest and solidarity for LGBT people.
A gay icon, Heather has appeared in the top ten of the Independent On Sunday's Pink List twice, graced the cover of LOTL Magazine more times than any other artist and headlined Sydney Mardi Gras' Fair Day. She's also a patron for Diversity Role Models, Manchester Pride and a supporter of The Peter Tatchell Foundation, The Albert Kennedy Trust, Womankind and Stonewall.  This summer, she will perform at various Pride events, including Brighton Pride before embarking on her own UK tour in October.