The results from the same-sex marriage postal survey are in! So what happens now?
There wasn't an eyeball in our office that wasn't glued to the live coverage of the Marriage Equality announcement this morning at 10 am.
The last few months have been an emotional roller coaster for members and allies of the LGBTIQ+ community and after an endless tug-of-war of losing and restoring our faith in humanity, we FINALLY have our result!
 The results are in, the Australian people have spoken and…
61.6% OF AUSTRALIANS VOTED YES!
The Equality Campaign has described the YES result as a "historic milestone for Australians and a victor for equality and fairness" that sends a powerful message to Federal Parliament to legislate for marriage equality now. 
The Australian Bureau of Statistics (ABS) announced today that 7.8 million Australians, or 61.6% of voters, voted YES in the voluntary postal survey to include LGBTI people in the country's marriage laws. Additionally, 133 out of 150 electorates voted YES!!
A massive 79.5% of eligible Australians took part in the voluntary survey. On top of that, the Sydney Morning Herald stated that "almost 1 million Australians had either enrolled for the first time or updated their details", which goes to show how important same-sex marriage is to our country.
The Equality Campaign will now work with all sides of politics to ensure that the declared will of the Australian people becomes a reality by the end of the year – Prime Minister Malcolm Turnbull promised earlier this morning that the government intends to "get this done" by Christmas this year. We did say earlier in the year that Marriage Equality would be the best Christmas present ever, now it looks like it actually might happen!
The Equality Campaign's Tiernan Brady said, "This campaign was won because of thousands of positive conversations that happened across the country. Our campaign has been one of respectful dialogue about real people's lives. It has been about our mothers, fathers, sisters, brothers, colleagues, neighbours and teammates.

"We didn't ask for a national poll on our dignity and worth, but LGBTI Australians have been overwhelmed with the support they have received from their friends, family members, colleagues and teammates during this process. This result is a historic milestone for Australians and a victory for equality and fairness,".
Anna Brown of the Equality Campaign said it's important today that we celebrate. "Tomorrow we will look to Canberra and make sure a fair bill is passed as soon as possible to legislate for marriage equality. It's now time for parliament to do their job and vote this through as soon as possible.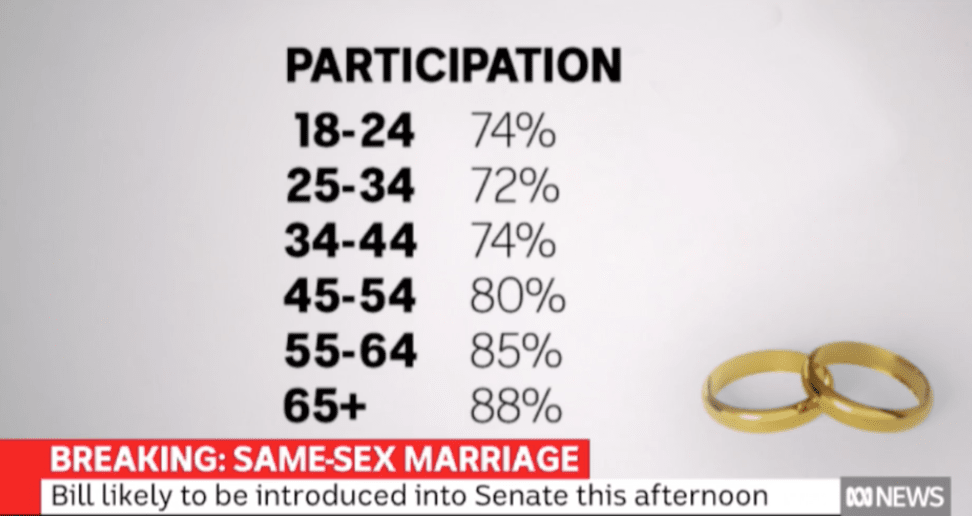 Age Participation breakdown | Via ABC Twitter
"The Government has the Dean Smith Bill that is a reflection of the consensus reached by all parties. Let's get on with it. Australians won't stomach anyone playing with the lives of their LGBTI friends and family any longer," Anna Brown said.
The Equality Campaign's Alex Greenwich said the LGBTI community and its supporters would not be celebrating this success without the thousands of supporters who campaigned right around the nation. "This has been a moment of unity where Australians have come together in support of fairness and equality and delivered an unequivocal mandate to Federal Parliament to deliver marriage equality now. We are so grateful for the millions of people who showed immense leadership and dedication during this campaign, truly making Australia a fairer and more equal place.
"A fair go is at the heart of Australian society and our laws should reflect the values of which we are most proud. Australians have done their job, now it's time for the politicians to do theirs and pass a bill that delivers marriage equality this week," Alex Greenwich said.
It was also said that the YES vote won across every single state in Australia. Now if that doesn't get you dancing like Will Smith then I don't know what will. (Yeah I did)
Shirleene Robinson, from the Equality Campaign, said the campaign for marriage equality started just over a decade ago and now Australia has voted that everyone is equal. "For more than a decade, our campaign has worked hard to bring Australians together to achieve this reform and ensure all Australians are treated with the same dignity and respect.
"It's a time to celebrate. But it's also a time to look after each other and ensure anyone who has struggled with the negative tone of the debate from the No side gets the extra support they need. It was incredible to see such strong support for LGBTI rights across the country voting to include every Australian in our marriage laws. This is truly a unifying moment for the nation," Shirleene Robinson concluded.
It is definitely a joyous day in Australian History and the celebrations are guaranteed to continue well into the night! So, whether you celebrate this amazing victory by popping the champers or baking a million rainbow cupcakes, make sure you spend today with someone you love because we can now (officially) say: