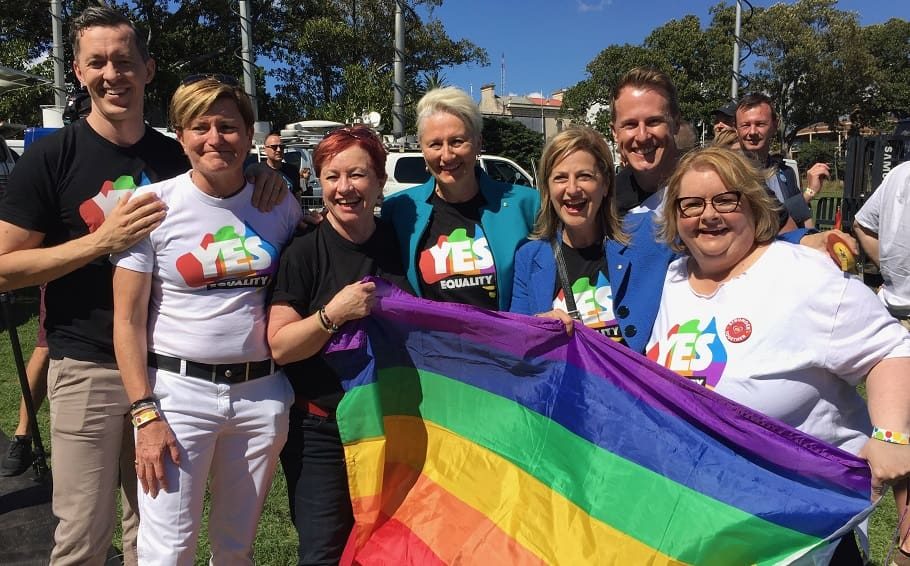 The story of the battle for marriage equality in Australia, told by those on the front lines.
Packed with drama, high emotions and cliffhanger moments, Australia Says Yes is the intimate and personal history of five decades of struggle and perseverance that propelled Australia to finally say Yes to marriage equality.
The film records the decades-long battle to create a more equal nation, seen through personal reflections from the heroes and pioneers of the movement; behind-the-scenes moments revealing heartache, strategy and determination; and archival footage featuring key moments in this extraordinary struggle.
From the history of facing arrest, imprisonment or even the death penalty—simply for being gay—to the nail-biting, life-changing results of the Marriage Equality Survey, the film reveals what has been at stake for so long for the LGBTIQ community.
The trials and tribulations of the 2017 postal survey on marriage equality serve as the spine of the film. This critical time is examined through key players in the movement: long-time marriage equality activists Alex Greenwich, Dr Kerryn Phelps, Jackie Stricker-Phelps, Peter de Waal and Peter "Bon" Bonsall-Boone who have been fighting for LGBTIQ people for decades; actress and comedian Magda Szubanski who took a personal and very public role in the struggle for equality; and grassroots campaigner Edie Shepherd, a hip gayby baby and co-founder of Blackfullas for Marriage Equality.
It is during this frenetic and momentous time that the personal cost to the LGBTIQ community is exposed: this is a vote in which their very humanity is being debated. The main characters fight with every fibre of their beings to ensure that Australia says Yes to marriage equality.
The film revisits the events of 2017 and flashes back to the start of the modern gay rights movement in the late 1960s. Critical moments in history are interwoven with personal stories and illustrated with archival footage, newspaper headlines, radio announcements, personal photos and television news reports.
On results day, the film follows the main characters from daybreak, documenting their nervous tension as they await the results of the vote … followed by overwhelming joy and celebration when Australia says Yes. For Peter de Waal it is a bittersweet, very hard-won victory—his partner of fifty years passed away on the eve of the vote. For the wider community, the result brings relief and pride: courage, persistence and understanding has allowed them to create a more equal nation.
Key cast members include Magda Szubanski, Peter de Wall and Peter 'Bon' Bonsall-Boone, Alex Greenwich, Dr Kerryn Phelps and Jackie Stricker-Phelps, and Edie Shepherd.