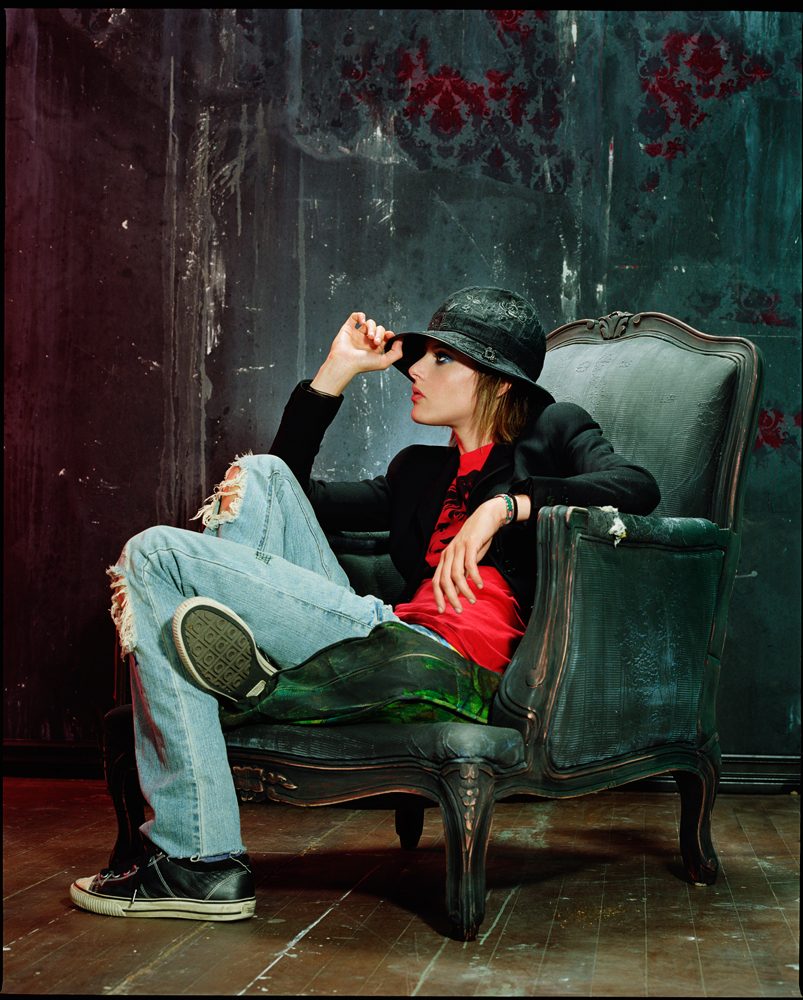 Kate Moennig took time out from her DJ tour to reveal her thoughts on the L Word reboot, the #MeToo movement, and dogs.
Kate Moennig was recently in Australia on a whirlwind DJ tour, taking Melbourne, Sydney, and Brisbane by storm. The hottest alum from Showtime's landmark lesbian series The L Word, and now a series regular on Ray Donovan, Kate was understandably jet-lagged when I caught up with her in Melbourne. Dressed casually in a white T-shirt and black pants, sporting a beanie and glasses, she looked worlds away from Shane but was still the epitome of cool.
Kate's DJ tour was well-timed, coinciding with Australia's finally and joyously ushering in marriage equality. What did she think about Australia finally getting its act together regarding LGBTQ equality?
"It's wonderful. It's about time."
If you're surprised about her sideline as a DJ, so was I.
"It's always been a hobby, so it's fun being able to work doing your hobby. I play back at home. I used to have a monthly party with some friends but I have a hard time staying up late, so I can't keep it up on a weekly basis," she says.
Kate wasn't up for a political debate when I asked what she thought about Donald Trump. "I don't wanna make it all about him," she demurs. So instead I ask, "If you were president, what's the first thing you would do?"
"Number one, I don't want to be president," she laughs, "and number two, I can't even answer that question, because I don't want to be president."
Fair enough.
Besides being a lesbian icon, Kate is also an advocate, having produced a documentary on gay homeless youth some years back. How did that come about?
"You're really digging back…a friend of mine is a filmmaker and suggested we do it for a platform that doesn't exist any longer, but the platform was looking for content and I thought that would be a more informative project to do than something trivial like a quiz; [homelessness among LGBTQ youth] was an epidemic I wasn't fully aware of, so I started researching it."
Kate will be back in production mode again with the highly anticipated comeback of The L Word (not saying I'm a fan or anything, but my daughter is named after her little brother in the show), and she is happy to be reconnecting with the cast, including her close friend Leisha Hailey (Alice). While they were filming the original series, Kate and Leisha were roommates, along with Mia Kirshner (Jenny), and they all lived down the street from Jennifer Beals. "We're very excited; I'm more than happy to work with them again," says Kate.
Since scripts have not yet been written for the L Word reboot, Kate was unable to talk about future plotlines, although lesbian conspiracy theorists on the Internet are already at it, claiming that Jenny, who was found face down in a swimming pool, was not dead at all. To refresh your memory, the final episode of the show, which aired in 2009, featured Lucy Lawless as a cop who investigates Jenny's death and ends up interviewing the other girls, who are believed to be suspects in her murder. How she will slip back into the storyline remains a mystery, as Jenny was apparently the most hated character on the show (I liked her), and maybe the fans won't want her brought back at all.
Since the original L Word wrapped in 2009, Kate has been busy; in addition to playing Lena on the successful TV show Ray Donovan since 2013, she's done several feature films: Everybody's Fine (2009), The Lincoln Lawyer (2011), Gone (2012), and Lane (2017), which is a wonderful coming-of-age movie set in the 1970s where Kate plays the mother of a teenage girl.
Now it's time to talk about dogs. I promised my Chihuahua cross, Rosie, that I would ask Kate about her three-legged pooch Floyd, who I noticed on her Instagram. Kate shared Floyd's origin story.
"I've had Floyd for 14 years. He's 15, a cancer survivor, he's deaf, he has epilepsy—but he's perfect. I adopted Floyd when he was just under a year old. He's my favorite soul in the world."
"Dogs save us all," I say, in all sincerity.
"Don't they," Kate agrees.
I wondered what Kate thought about the historic #MeToo movement, which is finally creating positive change for women in this male-centric world we live in.
"Oh, it's about time. It's about time. I think it's only going to get stronger and it's not going to go away."
I agree with her, and suggest that the Old Guard needs to…
"They all need to go," Kate cuts in defiantly.
Does she have any career aspirations for the future?
"I don't have anything specific. I just hope I get to work on things that my heart is involved in, that I can be excited to go to work every day and be proud of. That's really all I aspire to."
When we shake hands goodbye Kate says, "It's nice to meet you."
We part. I go to collect my car, only I to go to the wrong parking lot. Understandable—since it's not every day you get to interview Kate Moennig.