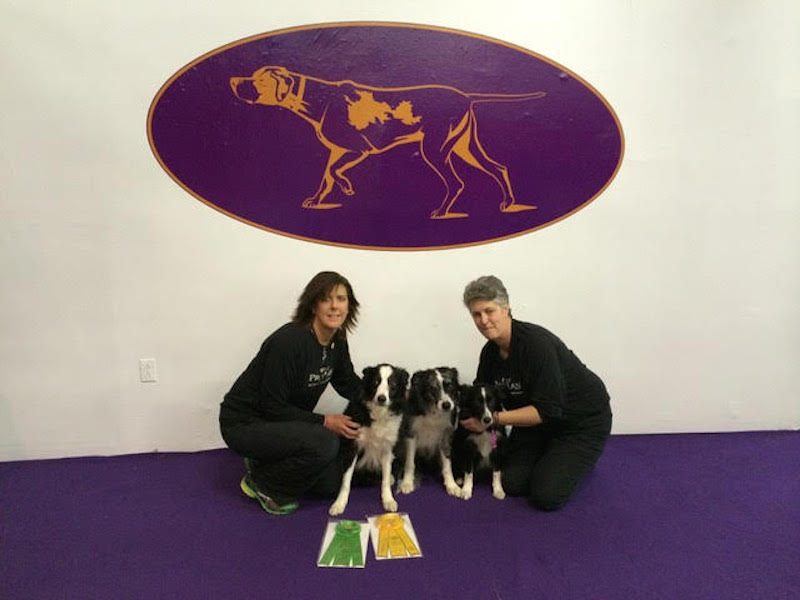 Dog bred by lesbian wins Westminister agility and other thoughts on the big gay sport of dog shows!
This year marks the 142nd annual Westminster Kennel Club Dog Show. Westminster is a highlight dog year in the United States, it's a huge, special show (far more exciting for me than the Winter Olympics!) Dog shows hold an important place in my heart—I've been involved with training in various dog sports for 20 years, so having the opportunity to attend Westminster is just a treat.
I wore my favourite rainbow puppy dress to Westminster this year (seemed the best way to gayly report on the show) and had a wonderful time watching the Master Obedience Championship as well as seeing gorgeous dogs in the breed ring. All the dogs are beautiful and brilliant, and…there are so many gay people!!!
A highlight of Westminster for me this year was Speedoggie Freedom of Expression aka "Fame(Us)" and her handler Jessica Ajoux winning the 2018 Westminster Agility Championship! Most exciting for me though was that Fame(Us) was bred by NJ lesbians (and my good friends) Chris Ott and Frankie Joiris of Speedoggie Border Collies!!! Ott and Joiris are "both full-time dog agility coaches working with athletes competing at the highest levels of national and international competition, as well as competing ourselves.
Ott has been a member of Team USA in World competition on numerous occasions as well as holding a Guinness world record and excelling in National competition. Joiris recently transitioned from being a full-time trainer of animal actors, working for three decades in the industry in NYC, to competition agility coaching, something that had been an avocation." Their Border Collies are "a line of dogs who are consistently among the top competition dogs in the nation."
How cool is it that a dog bred by agility superstars and out lesbians won!  Want to watch the winning run? Is that even a question? Of course, you do. Fox Sports was broadcasting highlights from the Agility championship and you can see the lightning speed performance here.
When asked about what it's like as out and very public lesbians in the agility world Ott & Joiris said: "The agility world has come a long way, and for the most part people are accepting of us. When we started in agility that was not so much the case, and there are still a lot of gay people who prefer to keep a low, don't ask, don't tell, profile.
We run a very small and very successful breeding program, our puppies are in very high demand by competitors who wish to rise to the top of the sport, so that seems to go a long way toward people accepting us; they want what we produce. Which is a bit cynical, but how it sometimes feels." And about Fame(Us)' win they said "We are super proud to be the breeders of Fame(Us), Westminster is a very prestigious show, and being at the top there makes everyone notice, but so many lovely people who own Speedoggie Border Collies make us proud with their accomplishments that we don't want to single out one for all the accolades."
Is there still homophobia in the dog world? Absolutely, especially with the cultural reality of our country right now. Microaggressions and explicit homophobia are no strangers to out LGBTQ people in the world of dog sports/shows. The result? LGBTQ dog show competitors still not feeling comfortable coming out, or out competitors not feeling comfortable speaking out about homophobia they experience for fear it will impact the way their dog is judged when they walk into the ring.
In the last month, two of my good friends in different parts of the country have experienced homophobia at dog shows. Holly Hughes was competing with her dogs at an agility trial and part of the program involved the bio of the dog being read. Holly's dog's bio included a reference to his handler (Holly) and her wife. The announcer didn't read her dog's bio as they ran, not just one run, but every run that day. Holly was the only out competitor at the trial, and her dog was the only dog who didn't have a bio read. Holly and her dog had to run in silence.
Similarly, Joiris was recently at an obedience competition with one of her dogs and "during the group stay exercise, which is when all dogs in the class are lined up on one side of the ring, facing the other side of the ring, handlers leave them in sit-stay for one minute, and all handlers walk across the ring to stand facing their dogs, then return to their dogs, down them, and go across the ring for three minutes, during which the handlers are supposed to stand still, and cannot talk, turn around etc.
I was standing with my back to the crowd. As is customary during the group stays, all the audience members were speaking softly so as not to disturb the dogs or handlers, so all I could hear was that sort of hush of whispered voice. Suddenly one woman's voice spoke very loudly above the whispers 'THAT'S SO GAY!', and the tone was definitely derogatory.
As much as I wanted to, I could not turn around to see who it was or confront her.  Someone else in the audience must have said something, because the next thing I heard was the same voice saying, just as loudly, 'I DON'T GIVE A RAT'S ASS, I AM POLITICALLY INCORRECT'."
Are these incidents increasing in Trump's America? Maybe. For the first time GLAAD's  Accelerating Acceptance report found a decrease in acceptance of LGBTQ people in the United States from the previous year. "In the past year, there has been a swift and alarming erosion of acceptance which can only be fought by being visible and vocal," says GLAAD President and CEO Sarah Kate Ellis.
To me, this means we keep being queer. We keep referencing our partners, we wear our pride gear, we talk honestly about what our families look like whenever we are included at dog shows.
I feel better knowing that the American Kennel Club has taken public stances against homophobia.  In 2013 when it was announced the 2016 World Dog Show was scheduled to take place in  Russia, the AKC issued a statement against the homophobia/anti-LGBTQ legislation and requesting that the show be moved to a country where all exhibitors would safely be able to participate saying: "Dogs do not discriminate.
Gender, race, sexual orientation, and other status do not enter the equation of responsible pet ownership. That is why the American Kennel Club and our constituency are puzzled and disappointed by the decision to allow Russia to host the 2016 World Dog Show. The proliferation of anti-gay and lesbian laws in Russia today is both disturbing and shocking to our community. The choice of this country as a venue for such a prestigious dog show flies in the face of the ideals of the human-canine bond."
Queerly signing off from Westminster 2018!