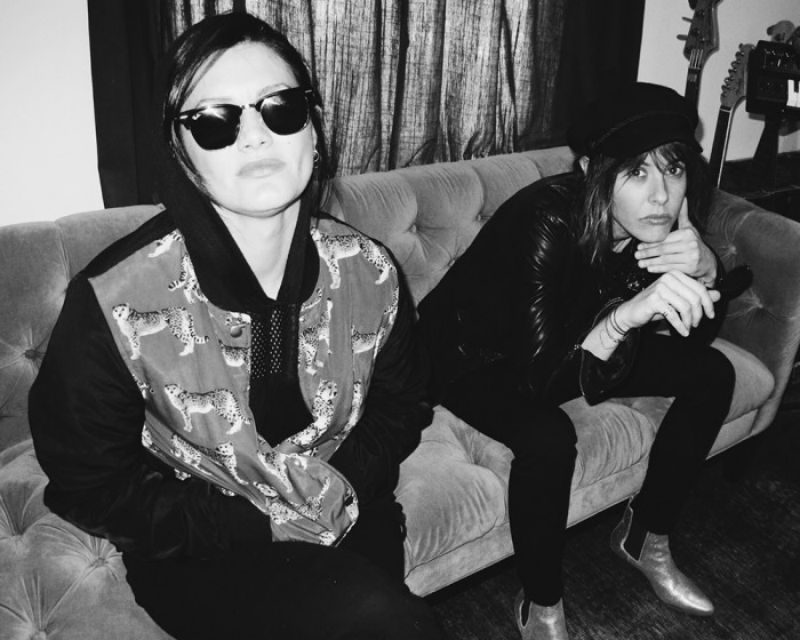 The DJ partnership is known as X-Names.
Camila Grey and Katherine Moennig are bringing their trademark tomboyish style, sexy swagger and killer turntables to the Dinah Shore Weekend in Palm Springs, CA, adding their names to an already phenomenal 2016 Entertainment line-up.
Uh Huh Her's lead singer, Camila Grey, and L Word iconic star, Katherine Moennig, are about to pack the Dinah dance floor with high voltage vibes taking the epic all-girl party to a whole new zenith. Together they are the X Names.
"Showcasing Kate and Cam at the event to DJ is beyond exciting for us and our customers.
They both bring the same dedication and passion to their DJing art as they have to music and acting," comments Mariah Hanson, founder and producer of The Dinah.
"This year we are really zooming in on charismatic DJs that are not only bringing their talent & originality to the Dinah but also dropping their exceptionally unique & hot sound to the turntables."
Of course, the community icons are no strangers to The Dinah. Grey and Moennig have both attended the event on numerous occasions in recent years, the first with the electro-pop band Uh Huh Her, and the latter as one of our most requested celebrity guests.
However, this will mark the first time the beloved ladies will team up under their X-Names moniker to showcase their spinning skills at the largest lesbian event on the planet.
Camila Grey brings with her a strong musical background. Educated at the prestigious Berklee College of Music where she studied Jazz and majored in Music Business, Grey has gone on to work and tour with the likes of Adam Lambert, Dr Dre, Busta Rhymes, Tricky, Melissa Auf Der Maur, Kelly Osbourne, Mellowdrone, Big Black Delta, and her own band UH HUH HER (UHH). She currently promotes and DJs an exclusive Dance Party in Los Angeles, CA called LUC alongside DJ KIM ANH.
Moennig started her DJ career back during her NYC days when she would spin music at house parties and clubs in the East Village. She has been honing her spinning chops for several years and is now quickly becoming one of the most sought after celebrity DJs on the circuit. She, Camilla and Sam Ronson have a new monthly LA-based party called The Bassment, where they all DJ.
Acting-wise, Moennig is of course most well known for her famed role as Shane McCutcheon on Showtime's hugely popular lesbian-themed drama series, The L Word. She also currently stars on Ray Donovan as Lena (Ray Donovan's assistant) – another Showtime television hit show.
What started as "dabbling" for this electrifying pair quickly spiralled into a DJ partnership that has been successful beyond anything they both could have ever imagined.
Now together X-Names – who spin a blend of Indy, Deep House, Darkwave, Nuwave, Nowave, Electro, Disco, Hip-Hop, the '70s and '80s – travel the world to play a variety of clubs and parties entertaining A-List clients such Stella McCartney and Amour Vert, to name a few.