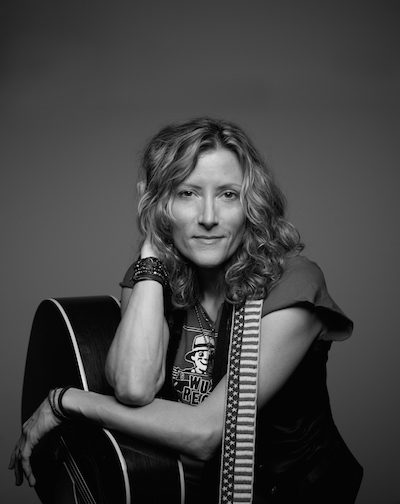 Soulful Americana star has a track perfect for Valentine's Day.
Do you have Michelle Malone on your playlist? The critics are raving about her:
"Raucous and jubilant – Malone alternates between soulful ballads and rowdy, riffy blasters." —Rolling Stone
"Malone emerges, not as an ingenue, but as the definition of the Atlanta rock sound–Southern, blues-touched, guitar-driven, but still about the song." —No Depression.
Compared to most musical artists in the Americana genre, Malone seems like a pair of distressed blue jeans amidst a sea of pantsuits. Unlike the surplus of self-professed rootsy rebels, one listens to this woman from Dixie, and you know you're hearing the real thing. Credit Michelle Malone for doing things her way for the better of the past three decades and defying expectations.
She's had her share of success, courtesy of some 15 studio albums, her own independent SBS Records label, numerous top-flight film and TV soundtracks, kudos from the critics and collaborations with a remarkable roster of amazing artists, among them, the late Gregg Allman, ZZ Top, Ellen DeGeneres and the Atlanta Symphony Orchestra. Chuck Leavell, the master keyboardist who has backed both the Rolling Stones and the Allman Brothers, cited her as "One of the best female vocalists I've ever heard." It's little wonder that Guitar World once hailed Malone as "Equal parts guitar slinger and sweet songstress, with masterful lyrical introspection – sublime to raucous."
Still, Malone isn't content to simply acknowledge her accomplishments.
A singer, songwriter, guitarist and producer whose music is informed by blues, roadhouse rock and roll and Georgia soul, Malone's stunning and stirring new album Slings and Arrows (due March 2nd on SBS Records) pushes the parameters even further. It's upbeat, defiant, and jubilant, flush with the raw energy and emotion that's always been a part of her signature sound, all while nudging her deeper into some personal new territory she hasn't explored. Malone deals with issues that have been burned into her psyche and affected her deeply. These songs speak to desire and disappointment, optimism and awareness, all with a driving and fiery conviction. "It wasn't planned that way," she insists, "but inevitably, that's how the album evolved."
"The past year seemed to alternate between darkness and light," Malone reflects. "It's been the arc of my life, but even more so over the past year. This album is a microcosm of issues I've encountered, and writing this record became a kind of therapy. It helped change my perspective, and I suspect there are messages here that can also offer affirmation to others."
While it's not a concept album in the strictest sense, Slings and Arrows looks at various scenarios from the perspective of the characters that populate these songs. Through their hardships, Malone draws parallels with situations she's encountered in recent years with her friends and family. In that way, Malone offers a connection and a catalyst for dealing with these universal difficulties.
Slings and Arrows are more than mere meditation or rumination. Malone, an Atlanta native, describes it as a "Georgia record" because the musicians, studios, and even those responsible for the visual art are all Georgians. "I take a lot of pride in Georgia and the importance that Georgia music has played not only in my music but also in American music in general," she says. "Georgians such as Little Richard, James Brown, and Ray Charles laid the groundwork. Without them, we would never have had Elvis, the Beatles, the Stones – there would be no rock and roll."
As the New York Times once pointed out, Malone is "The kind of singer and songwriter who can jolt things into overdrive." That's best evidenced by the fact that the record was recorded live in the studio. It took all of five days to get the songs on tape. "I aim for authenticity," Malone insists. "I don't know how to do it any other way. I'm at my best when I'm just me."
Malone slyly adds, half-jokingly and half seriously, "These Slings and Arrows have the power to defeat your blues, move your shoes and put you back together, too!"  Who doesn't want that?
So, what are you waiting for? Pre-order the album here.
"Love Yourself" this Valentine's Day
"This is the last song I wrote for the record. I actually wrote it pretty quickly the night before we cut it. It went down easily because the music was so much fun, and I loved the message. I'd been thinking about how self-esteem is this magical healing thing that makes everyone who has it instantly beautiful and commanding. I thought how amazing it would be if we could show the same love and respect for others that we so desire for ourselves. It sounds heavy, but it's a straightforward concept and a straightforward, fun song. Until you love yourself, you can't love nobody else!"