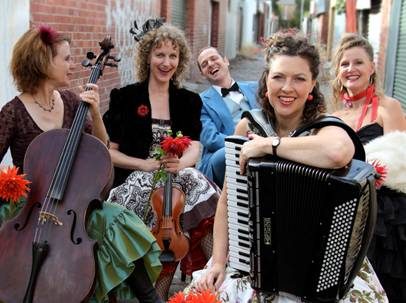 Melbourne based gypsy folk-pop quintet Cosmo Cosmolino launch their third studio album in August.
Melbourne's exquisite string and piano accordion quintet – Cosmo Cosmolino – announces the release of a spanking new album, Bel Air. Following their highly acclaimed, ARIA-nominated second album Nektar, this third release of extraordinary musicality offers original songs and instrumentals inspired by gypsy and tango traditions. Bel Air is at times wild and virtuosic, at times slow and sensuous, occasionally mad and always beautiful.
The new album (available in stores and digitally from August 5th) is accompanied by an extensive Victorian tour throughout July and August 2011. The tour incorporates 11 venues around the state and is destined to excite old fans and win many a new heart along the way.
Formed in 2000 by Hope Csutoros, Helen Mountfort (both of My Friend The Chocolate Cake fame) and Judy Gunson, Cosmo Cosmolino enjoyed immediate success and soon expanded with Dan Witton on contrabass & vocals and Andrea Keeble on violin. In 2006 Sue Simpson (ex Circus Oz) came on board replacing Hope Csutoros. The ensemble has gone from strength to strength, presenting sell-out performances and acclaimed festival gigs. A musically dazzling and visually enthralling group, the pleasure they derive from playing together is evident to all.
Bel Air takes the listener on a ride of passion in all its glorious colours – heartfelt songs, bursts of wild virtuosic strings, soulful piano accordion, languid and lascivious laments grounded by infectious double bass grooves.
Cosmo Cosmolino invites you to join them for a wild ride filled with laughter, tears, passion and mayhem and to come on the journey that is Bel Air!
BEL AIR ALBUM LAUNCH – TOUR DATES
Saturday 23 July 8 pm
Kingston Arts Centre, MOORABBIN
www.kingstonarts.com.au/performing-arts
Thursday 4 August 8 pm
Knox Community Arts Centre, BAYSWATER
www.knox.vic.gov.au/theatretix
Sunday 7 August 2 pm
The Potato Shed, DRYSDALE
www.geelongaustralia.com.au/potatoshed
Saturday 13 August 8 pm
The Capital Theatre, BENDIGO
www.thecapital.com.au
Sunday 14 August 4 pm
George Fairfax Studio, MELBOURNE
www.theartscentre.com.au
Wednesday 17 August 8 pm
Wesley Performing Arts Centre, HORSHAM
www.wesleypac.com.au
Thursday 18 August 8 pm
Hamilton Performing Arts Centre, HAMILTON
www.hamiltonpac.com.au
Friday 19 August 8 pm
Portland Arts Centre, PORTLAND
Bookings: 03 5522 2263
Saturday 20 August 4 pm
COPACC, COLAC
www.colacotway.vic.gov.au
Saturday 27 August 8 pm
Upper Yarra Arts Centre, WARBURTON
www.yarraranges.vic.gov.au
Saturday 3 September 8 pm
Burrinja Cultural Centre, UPWEY
www.burrinja.org.au