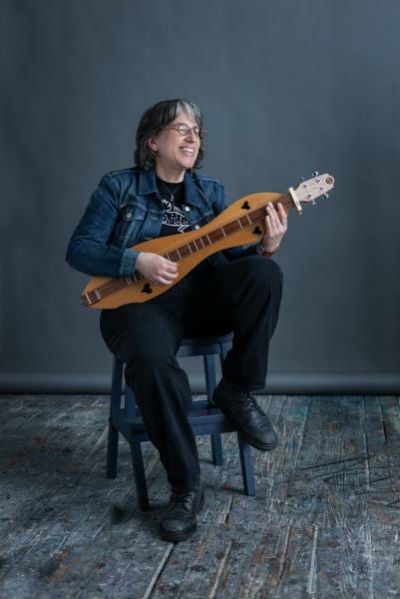 Listen to the folk-punk sophomore album now!
"DK" is an NYC born, urban mountain dulcimer performer and singer-songwriter who plays both traditional "lap" and "Nova Scotian" style on four and five-string dulcimers, holding the electric dulcimer like a guitar.
It's easy to get a sweet, seductive sound out of the dulcimer but DK takes it to another level—playing power chords, original fiddle tunes, edgy and mournful trad tunes and some lesser-known covers, and original material that has a reputation for "rocking out" on this trad instrument.
Even when playing acoustically, much of her work is beat-driven with a roots undertone. She accompanies "The Joy Machine" (as she calls the dulcimer) with singing that is melodic, heartfelt, and powerful—with the gutsy, full-hearted voice you'd expect a "roll up your sleeves, there's work to be done" woman to have—the kind of woman who would have worked the railroads or tilled a field.
DK performs a range of material, varying her set and sound depending on the gig and who's joining her on stage. Her repertoire includes old-timey, "trad," and fiddle tunes, original songs and instrumentals (ranging from an alt-folk sound to acoustic punk) and some covers.
All of it's got energy and passion—and, of course, thanks to the dulcimer, a kind of dark, melodic joy.
Her sophomore album "Shy One" has been described as quirky and smart with sultry vocals and intricate dulcimer playing.