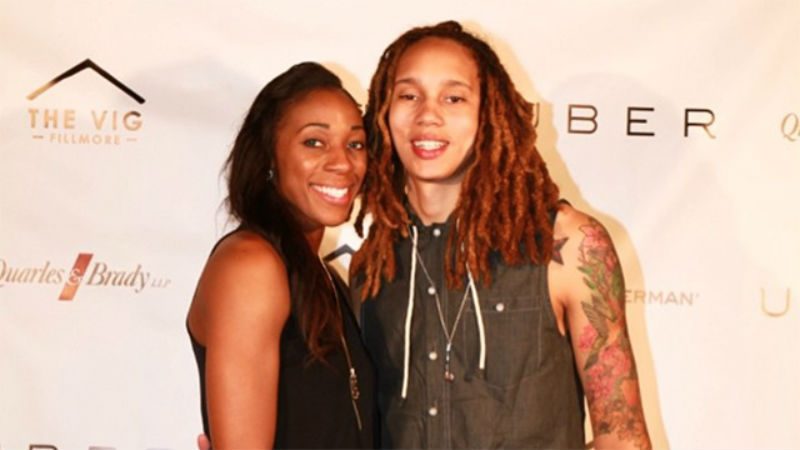 WNBA player Glory Johnson opens up about what really happened between her and Brittney Griner.
We all know the story by now—or at least we've heard all the rumours. WNBA All-Stars Glory Johnson and Brittney Griner shared a whirlwind romance, got engaged, and were married under the Arizona sun even as their relationship was beginning to unravel. A mere 28 days later, and only a day after Johnson announced she was pregnant on social media, the couple separated.
Since then, there's been a lot of she said/she said playing out within the legal system and through various statements released by lawyers and agents. But beyond the rumours and speculation, many of us still wonder—what really went down? How could a couple that appeared to be so in love, so destined for a fairytale ending, become estranged so quickly?
While Griner has remained largely silent (over the summer she told espnW reporter Kate Fagan that she was going to concentrate on basketball only and hasn't spoken personally about the relationship since), Johnson apparently decided to open up and share her side of the story with Cosmopolitan.
In a two-part series, one debuting in the November issue of the popular women's magazine and the other in December, Johnson gave an honest account of her relationship with Griner. Starting from the very beginning, she described how she fell in love with the 6'8" women's basketball phenom, their dizzying courtship, and the overwhelming tidal wave of emotions she felt when Griner proposed only two months later. While she never spoke ill of her former wife and was quite complimentary, she did paint a vulnerable picture of Griner that most WNBA fans aren't used to seeing—one that showed a lack of self-confidence, self-awareness and immaturity.
Throughout the article, there are also photos of Johnson looking pensive and confident. Yet, there's a distinct hint of exhaustion and stress lingering in her eyes. She's in a tough position now—on leave from the WNBA for only half the pay she was making as a player (which isn't much at all) and unable to play overseas because of her newborn twins, it's easy to see that the situation is wearing on her, literally. But Johnson says she isn't looking for sympathy. She maintains that she followed her heart and has no regrets about that. What she does regret, however, is how things unravelled between her and Griner.
"I have dreams about it sometimes," Johnson says at the end of the article. "One dream I had, we sat down and talked about it for the first time."
To read the Cosmopolitan article in full, click here