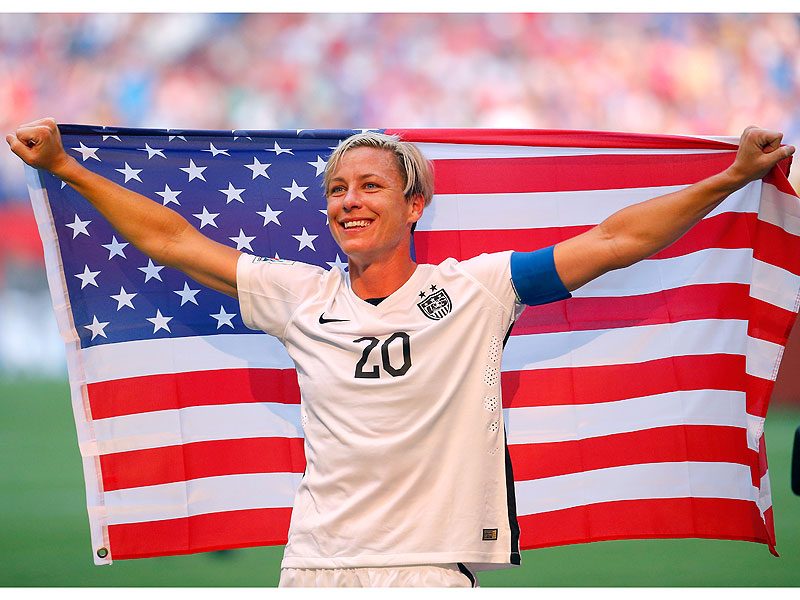 In honour of Abby Wambach's recent retirement, here are five memorable moments from her storied soccer career.
In the wake of Abby Wambach's retirement announcement, sports fans all over the world have been busy creating tribute GIFs and memes and writing blog posts and tweets in honour of the soccer legend. Professional athletes across multiple sports have also weighed in and shown their support. All of the adulations is well deserved. As the world's all-time leading scorer with 184 international goals (best among both men and women), Wambach will go down in history as one of the greatest soccer players of all time.
Even Mia Hamm agrees:
@AbbyWambach Thank you for carrying the game on your shoulders and leading us with such character, courage, and grit. Congrats. G.O.A.T.

— Mia Hamm (@MiaHamm) October 27, 2015
Wambach will also be fondly remembered in the lesbian community as a trailblazer for equality and visibility in professional sports. Though she only came out publically two years ago, Wambach proved that sexuality comes second to athletic talent and prowess. In other words, she showed the world that it's possible to be both a transcendent professional athlete and gay at the same time. And she did so without having to stand at a podium and announce it.
Throughout her 15-year career, Wambach has had many, many memorable moments. Here are five of Curve's favourites. Enjoy.
In 2001, a 21-year-old U.S National Women's Team soccer prospect stepped out on the pitch against Germany. She was still in her senior year at the University of Florida. Whispers had already begun to circulate about her size, raw talent, brazen play and penchant for headers.  Her name was Abby Wambach.
In 2009, Wambach scored her 100th international goal. This incredible milestone was even more special because it happened in front of a home crowd in Rochester, NY— right around the corner from where she grew up.

Wambach has played in 248 international matches for the United States. During a 2010 match against Costa Rica in a World Cup qualifying match, she collided with a player and split her head open. The training staff stapled it on the sideline, and Wambach returned to play. It's no wonder she's earned a reputation as one of the toughest, most resilient and durable athletes of all time.

Oh, just that time Wambach headed the ball in the back of the net during the 122nd minute of the 2011 World Cup quarterfinal match against Brazil. Megan Rapinoe lofted a prayer into the air and Wambach answered it beautifully. Watch it again and try not to get the chills. Lastly, how could we forget this past summer when the U.S. Women's National Team won their first World Cup since 1999? It was a goal that Wambach had set out to achieve the very first time she set foot on the pitch of an international match. After 15 years, she was finally able to proudly kiss the World Cup trophy. She also proudly kissed something else on national television for the world to see … her wife.
A memorable moment, indeed.