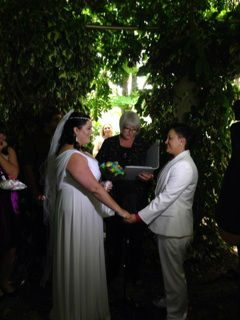 Corrina Peck and her partner Stacey Cowan were married on Saturday 7th December 2013.
With the High Court ruling against the ACT same-sex marriage law, they have vowed to keep fighting for Marriage Equality. Here's their story. The High Court struck down ACT laws allowing same-sex couples to marry.
Corrina says: "After being together for two years, my wife Stacey and I were married on Saturday in Canberra. We are from the NSW Central Coast. Our wedding took place at 11 am at Nara Peace Park, Lennox Gardens. We had approximately 40 guests travel to Canberra to celebrate our special day with us. Stacey and I proceeded to the steps of Old Parliament House for photos."
As partners, we found in each other a person with similar interests, the same work ethic, the highest regard for our families and compatible values and beliefs.  These qualities have secured our relationship as a sanctuary of love.  During the two years of being together, we have achieved our most important goal of buying our first home together.
Our wedding provided us with the opportunity to validate and celebrate our unity with family and friends, for our relationship to be acknowledged, to show the commitment we share – love unique to others, equal to all.
The media coverage has been great. People need to see us as the happy couples in love that we are. We had the opportunity to talk with some of the other couples marrying on Saturday, they were absolutely beautiful people. As a youth worker at San Remo, I work with LGBTI and same-sex attracted young people and feel the Government needs to get their act together on marriage equality. We need to pave the way for our future LGBTI young people to ensure their right to marriage equality is secured in legislation.