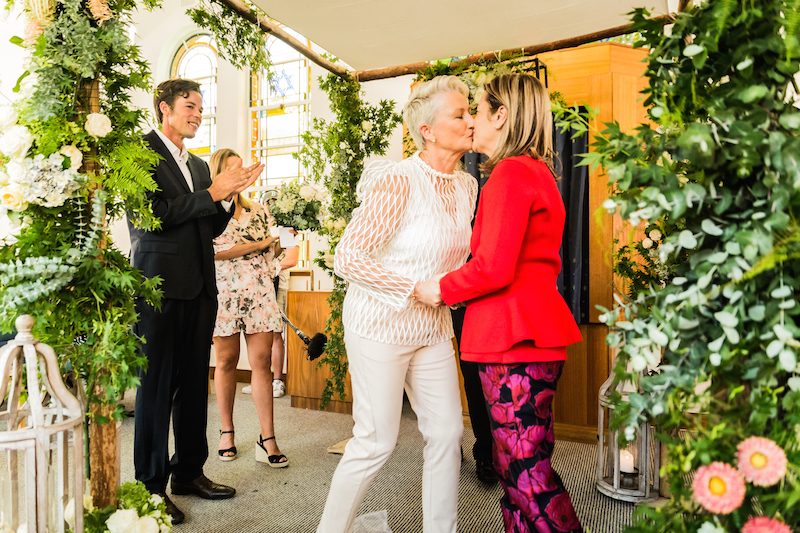 Jackie Stricker-Phelps and her wife, Professor Kerryn Phelps have three children between the ages of 18 and 36.
"It's been such a wonderful thing for the children of same-sex couples to know that their parents' relationship is recognised, like their friends at school…that means a hell of a lot to me," Jackie tells.
When I called to speak with the couple, they were halfway through making their dinner. Jackie tells me that she needs to wash her hands because she's right in the middle of peeling vegetables, which will be roasted and served up with chicken schnitzel – a traditional Jewish food, she tells me.
The high profile couple has married each other three times in two decades ­– twice in New York, now once at home. On their twentieth wedding anniversary, on January 4 this year, they were united in Sydney's Emanuel Synagogue, becoming the first Australian same-sex couple to be married in a religious ceremony.
The religious recognition of their marriage was hugely important to both women.
"I grew up in a family where my mother and father's extended family died in the holocaust because they were Jewish. So to have the actual blessing of the religion was a real closing of circles for me," says Jackie.

"I was [finally] able to get married in the same synagogue that my parents got married in 60 years ago, that my brother got married in, my father got remarried in, my brother was bar mitzvahed in, our daughter was bat mitzvaed in…I was the only person in the immediate family that hadn't had a significant ceremony there."
Kerryn, who converted to religion after meeting Jackie, also found enormous solace in the Jewish community through the years of discrimination and distress.
"The support of a faith community throughout this whole battle for us has been really important. In demoralising times it's great to go to an environment where people say 'you're welcome here, we don't discriminate…come here, your community supports you," she says.
Being the former deputy Mayor, as well as the former President of the Australian Medical Association, Kerryn became a major figurehead for Sydney's marriage equality campaign.
She also began activating change in the medical community over a decade ago.
"While I was AMA President I put through the first division statement on sexuality and gender diversity as a health issue. After 15 years of debate and discussion, the AMA Federal Council passed a resolution supporting marriage equality as a health issue," she says.
And like a self-fulfilling prophecy, Kerryn saw severe mental health impacts unfold during the months of the postal vote.
"A lot of people who had worked through the traumas of their childhood and their early years, a lot of the men who'd been traumatised but survived through the HIV and AIDS era, a lot of the older people who had been arrested or had criminal records, and had worked their way through that to happy and successful lives, were re-traumatised…they were reminded of their past," she says.
But as well as the immediate effects on the gay community, discrimination has a knock-on effect for other people too, she says.
"The other thing I noticed that was very damaging was for the people who found out their family and friends had voted no…that split friendship groups and family groups apart.

"There were a lot of people I spoke to who said "how can you continue to have a relationship with somebody who doesn't believe you have the right to equality?" she remembers.
For now, though, both women are happy to simply enjoy the rewards they have earned.
"The 7th of December was one of the best days of my life," says Kerryn, remembering the day parliament overwhelmingly voted YES for marriage equality.

"It was like the happy ending we weren't allowed to have. [That day] was what the country should be. Australia being at its best," agrees Jackie.